Index Secures $22 Million for K-Town Project
Developer's second project in neighborhood is seven- story multifamily building
Friday, August 24, 2018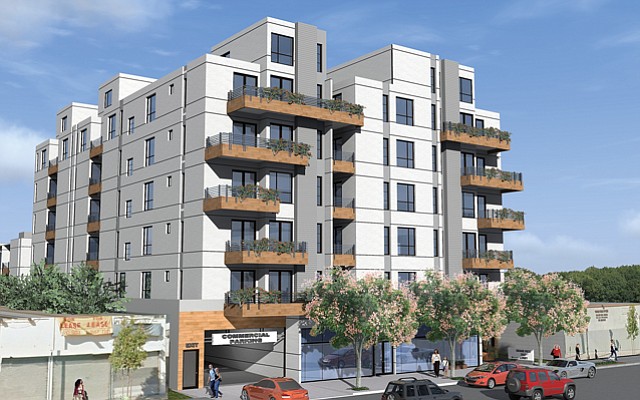 George Smith Partners Inc., a Century City-based commercial real estate capital markets services firm, has secured $22.3 million for the construction of a seven-story, 51-unit multifamily development with 3,350 square feet of ground-floor retail space at 3057 W. Pico Blvd. in Koreatown.
Jonathan Lee and Shahin Yazdi, both principals and managing directors at George Smith Partners, arranged the financing, comprised of a $17.3 million senior loan and a $5 million tranche.
The new development – called Pico at Western – is scheduled to begin construction at the end of this year and is expected for completion in 2020.
It will be the second Koreatown development for Index Real Estate Investments Inc. and Ketter Construction, both of Van Nuys, in recent years. The partnership also developed a 40-unit condominium project at 1101 S. Harvard Blvd. in Koreatown.
Pico at Western is billed as high-quality housing at rental rates that are more affordable than other luxury units sprouting up in Koreatown and elsewhere in Los Angeles.
"We are taking a thoughtful approach to ensure the development is well-aligned with the needs of the local market," said Pablo Kupersmid, principal at Index Real Estate Investments, in a statement. "For that reason, this will not be a luxury product."
The property also will offer ground-floor retail, the open community space and a fitness center "without over-amenitizing – making it a perfect fit for workers in the region," Kupersmid said.
Apartment Boom Slows
Los Angeles remains a big market for new apartments even with a 23 percent year-over-year decline in the number of units projected for completion in the metropolitan area, according to Yardi Systems Inc. subsidiary RentCafe.
Yardi Systems is a Santa Barbara-based real estate investment and property management software firm.
The Los Angeles area ranked fourth among the nation's top 20 metropolitan areas for apartment deliveries with approximately 11,400 units expected to enter the market by year's end, according to the report.
The city of Los Angeles accounted for more than one-third of expected new apartment deliveries, with nearly 4,600 units anticipated.
"This comes as a response to the city's high rent prices that have set off what we can call an affordable migration," RentCafe noted in its study. "Renters account for almost half of LA's population and the current supply of apartments is simply not enough to help cool off rental prices."
Nearly 900 units are expected for delivery in Glendale with Long Beach slated to produce 625 apartments and Santa Monica expected to unveil nearly 440 apartments.
Approximately 283,000 new apartment units are projected to hit the market by year's end in the United States, a decline of 11 percent year over year, and marking the end of a six-year growth period.
Los Angeles trails New York, Dallas-Fort Worth and Denver in terms of new apartment deliveries, according to the study.
Coldwell Promotes Holland
Christian Holland, a veteran executive at Coldwell Banker Commercial Westmac's Westside office, has been appointed to a managing director position at the firm.
Holland joined the company in 1994 and is considered one of its top performers – he was ranked last year in the top 2 percent company-wide in sales and leasing commissions. He previously held the title of executive vice president.
Holland's company history includes a 2011 deal where Open Road Films signed a seven-year lease valued at just under $2.5 million to occupy 9,000 square feet at 12301 Wilshire Blvd. in Brentwood.
Staff reporter Ciaran McEvoy can be reached at cmcevoy@labusinessjournal.com or (323) 556-8337.
For reprint and licensing requests for this article, CLICK HERE.