Best Places to Work 2018: People Helping People - The Embodiment of a Great Place to Work
Custom Content by the Los Angeles Business Journal
Tuesday, August 21, 2018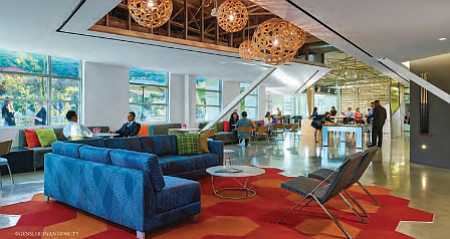 At Cydcor, a leader in outsourced sales services, team members proudly refer to their company as a "people helping people business." This is an idea woven throughout the fabric of Cydcor's values, its business operations, and its corporate culture. Cydcor lives up to this fundamental principle by connecting customers with products and services they need, helping clients achieve their revenue goals, championing team members' continued development and growth, cultivating a passion for community service, and arming its employees with the tools, resources, and benefits they need to achieve, succeed, and thrive.
DESIGNED FOR PEOPLE
The company headquarters, located in Agoura Hills, facilitates human interaction with open workspaces, large transparent conference rooms, multiple outdoor courtyards, and a vast employee kitchen and lounge aptly referred to as "The Heart." Cydcor employees flock to The Heart to enjoy the plentiful free coffee and snacks, cereal bar, pool table, and cozy gathering spaces where they can meet to brainstorm, or just share stories about their weekends. The airy workspace also boasts a fully equipped employee fitness center. But the company's stunning workspace is just a bonus for Cydcor team members, who say it is the company's emphasis on developing its people that drives them to work harder, be their best, and deliver results on behalf of Cydcor's clients.
DEVELOPING FUTURE LEADERS
Cydcor, named nine times to the LA Business Journal's Best Places to Work in LA, including in 2018, offers a comprehensive employee development program that spans goal setting, one-on-one coaching, leadership training courses, free online learning resources, and more, all designed to encourage and empower team members to reach their professional goals. Managers are invested in the success of their team members, helping them build on their strengths, work to overcome weaknesses, and map out what is required to develop in their careers.
Team members at all levels are invited to attend leadership and development workshops on topics ranging from effective communication and public speaking, to time management and conflict management. Cydcor maintains an open-door policy as well, that welcomes collaboration and reaching out to leaders and other teammates for support when needed. Team members feel they have a network of passionate and knowledgeable co-workers with them at all times.
CONNECTING PEOPLE BEHIND SHARED GOALS
Cydcor prides itself on fostering a culture of inclusion and unity that helps team members build and grow connections with their colleagues. Departmental teams plan frequent team-building events to escape rooms, paint nights, dinners on the town, and more. Twice yearly, all-company meetings bring the entire team together for networking, development, collaboration, and opportunities to reflect on company goals and its plans for the future.
For reprint and licensing requests for this article, CLICK HERE.
Prev Next