Neuroscience Institute Opens New SaMo Center
Pacific Brain Health Center to help patients with dementia, other ailments
Friday, August 17, 2018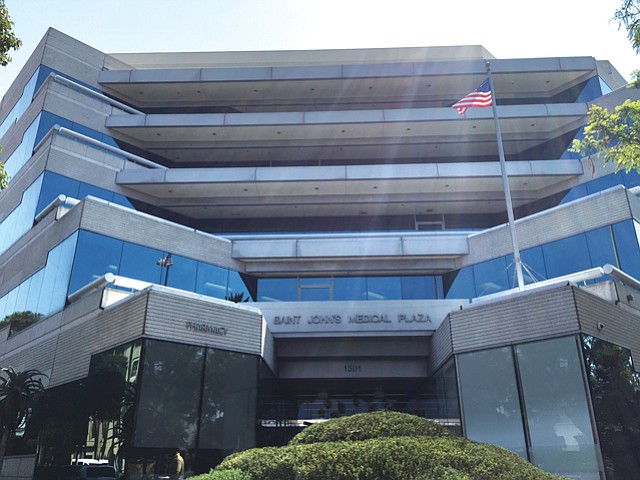 The Pacific Neuroscience Institute in Santa Monica has opened the Pacific Brain Health Center tailored to helping residents with dementia.
The new center at 1301 20th St. was announced this month and will care for patients with Alzheimer's disease and associated neurologic disorders, as well as memory loss, depression and anxiety.
Patients will have access to specialists in neurology, psychiatry, neuropsychology and geriatric medicine. There are five full-time doctors and five support staff at a suite inside Saint John's Medical Plaza.
"It's very exciting to bring on these highly skilled specialists who have such expertise in caring for patients with a wide variety of neurobehavioral conditions," said Daniel Kelly, founder and director of the Pacific Neuroscience Institute, in a statement.
The multispecialty practice of two dozen physicians announced a year ago it had affiliated with Providence Health & Services, which runs Providence Saint John's Health Center in Santa Monica, its John Wayne Cancer Institute, and Providence Little Company of Mary Medical Center in Torrance.
Cancer Group Taps COO
The Prostate Cancer Foundation in Santa Monica this month announced it had appointed Christine Jones as chief operating officer.
Jones, who replaced John Weston in the post, aims to grow the foundation through stronger corporate alliances and business opportunities. She also will work to accelerate research for better treatment and cures.
The Prostate Cancer Foundation, founded in 1993, has raised more than $755 million for prostate cancer research, providing funding for 2,000 research programs worldwide.
"I look forward to leading the charge to expand our global research enterprise and defeat prostate cancer once and for all," Jones said in a statement.
She is the former executive vice president, general counsel and corporate secretary for Go Daddy Operating Co., a subsidiary of the Go Daddy Group Inc., an internet domain registrar and web hosting company based in Scottsdale, Ariz. She also served as chief executive of Great Hearts Academies, a K-12 charter school based in Phoenix.
CA No. 2 in PAs
California ranks second to New York as the state with the highest number of physician assistants, according to a report from the American Academy of Physician Assistants.
The report, released last month, said physician assistants in the state also placed No. 2 in median salary, trailing only colleagues from Arizona in the national pay rankings.
California had nearly 9,500 physician assistants in 2017, according to the report, which lagged the 12,000 working in New York. Physician assistants here earned a median base salary of $125,000, behind $130,000 in Arizona.
Prev Next
For reprint and licensing requests for this article, CLICK HERE.