Neuroscience Institute Opens New SaMo Center
Pacific Brain Health Center to help patients with dementia, other ailments
Friday, August 17, 2018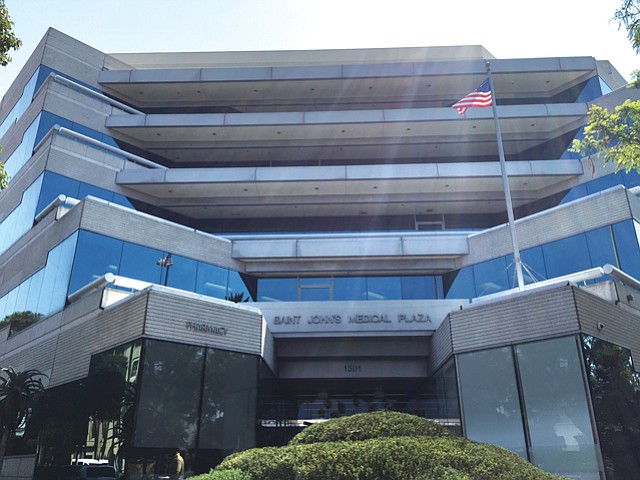 The Pacific Neuroscience Institute in Santa Monica has opened the Pacific Brain Health Center tailored to helping residents with dementia.
The new center at 1301 20th St. was announced this month and will care for patients with Alzheimer's disease and associated neurologic disorders, as well as memory loss, depression and anxiety.
Patients will have access to specialists in neurology, psychiatry, neuropsychology and geriatric medicine. There are five full-time doctors and five support staff at a suite inside Saint John's Medical Plaza.
"It's very exciting to bring on these highly skilled specialists who have such expertise in caring for patients with a wide variety of neurobehavioral conditions," said Daniel Kelly, founder and director of the Pacific Neuroscience Institute, in a statement.
The multispecialty practice of two dozen physicians announced a year ago it had affiliated with Providence Health & Services, which runs Providence Saint John's Health Center in Santa Monica, its John Wayne Cancer Institute, and Providence Little Company of Mary Medical Center in Torrance.
Cancer Group Taps COO
The Prostate Cancer Foundation in Santa Monica this month announced it had appointed Christine Jones as chief operating officer.
Jones, who replaced John Weston in the post, aims to grow the foundation through stronger corporate alliances and business opportunities. She also will work to accelerate research for better treatment and cures.
The Prostate Cancer Foundation, founded in 1993, has raised more than $755 million for prostate cancer research, providing funding for 2,000 research programs worldwide.
"I look forward to leading the charge to expand our global research enterprise and defeat prostate cancer once and for all," Jones said in a statement.
She is the former executive vice president, general counsel and corporate secretary for Go Daddy Operating Co., a subsidiary of the Go Daddy Group Inc., an internet domain registrar and web hosting company based in Scottsdale, Ariz. She also served as chief executive of Great Hearts Academies, a K-12 charter school based in Phoenix.
CA No. 2 in PAs
California ranks second to New York as the state with the highest number of physician assistants, according to a report from the American Academy of Physician Assistants.
The report, released last month, said physician assistants in the state also placed No. 2 in median salary, trailing only colleagues from Arizona in the national pay rankings.
California had nearly 9,500 physician assistants in 2017, according to the report, which lagged the 12,000 working in New York. Physician assistants here earned a median base salary of $125,000, behind $130,000 in Arizona.
The median annual salary for PAs nationally rose 2.9 percent to $105,000 last year, while the median hourly wage was $60.00.
The number of physician assistants, who provide much of the same care as a medical doctor under the supervision of a board-licensed physician, is expected to grow by 36 percent between 2016 and 2026 to 145,900 nationwide, according to the U.S. Bureau of Labor Statistics.
The bureau reports physician assistants in metropolitan Los Angeles, Long Beach and Glendale earn a median salary of nearly $106,000.
Immix Cancer Drug Trial
Immix Biopharma Inc., based in Sawtelle, began a clinical trial earlier this year in Australia for its Imx-110 cancer drug targeting solid tumors.
But the clinical-stage biotechnology startup announced preliminary success closer to home this month when it claimed to have cured a dog suffering from end-stage lymphoma in Chicago.
Jerry, a 10-year-old Viszla, suffered widespread metastasis and was unlikely to survive chemotherapy, according to Dr. Ilya Rachman, co-founder of the biotech firm.

Rachman said that after a single cycle of the Imx-110 medication – a combination of doxorubicin and a turmeric-derived compound called curcumin – the dog was free of any sign of cancer. A week later, his owner said, he was romping along the shore of Lake Michigan.
Immix's cancer drug employs a nanoparticle to penetrate tumors and kill treatment-resistant cancer cells, while wiping out certain immune cells that protect the disease and support its growth. A phase 2 study is expected to begin next year.
Immix Bio was founded in 2012 by Rachman, a practicing internist who also owns Rachman Medical Group and has a PhD in neuroscience and cell biology; Vladimir Torchilin, director of the Pharmaceutical Biotechnology and Nanomedicine at Northeastern University in Boston; and Sean Senn, a patent attorney who named the firm after a company owned by his late father who died from cancer.
Advisors include Dr. George Sledge Jr., chief of oncology at Stanford University Medical Center, and Dr. Razelle Kurzrock, chief of hematology and oncology at UC San Diego Moores Cancer Center in La Jolla.
Staff reporter Dana Bartholomew can be reached at dbartholomew@labusinessjournal.com or (323) 556-8333.
For reprint and licensing requests for this article, CLICK HERE.