Fallas Plans to Get Back Up
RETAIL: Everything but e-commerce hit discount chain
Friday, August 17, 2018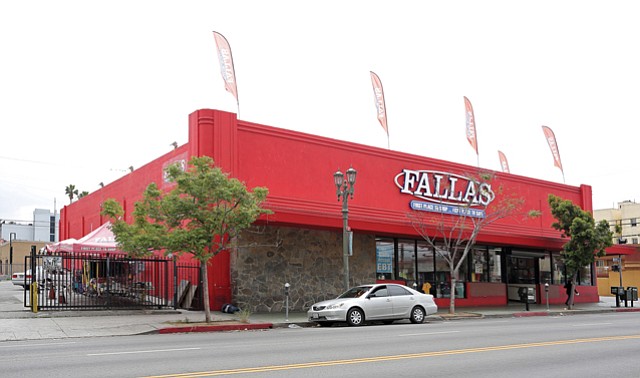 Gardena-based discount retailer National Stores Inc. filed for Chapter 11 bankruptcy earlier this month in the face of a perfect storm.
But it wasn't the same storm of digital disruption and e-commerce that's knocked out many retail chains and forced others to adjust.
The problems facing National Stores, which owns 344 brick-and-mortar sites spread over several chains, amount to a tale of a troubled acquisition, bad weather and crimped cash flow that might seem nostalgic if it weren't so difficult.
National Stores is most visible locally with its Fallas, Factory 2-U and Anna's Linens chains. The stores primarily serve low-income communities and sell men's, women's and children's apparel, shoes and household items.
The average price for products at its stores is $5 – and customers shop in person.
"Other retailers are incorporating entertainment, experience, innovative brand awareness in their stores," said Frank Kaufman, national retail analyst at Seattle-based Moss Adams. "That doesn't apply to National Stores. They're trying to get low cost products in the hands of hard working people."
Cuts to come
That's no small task for a company with close to 10,000 employees across the continental U.S. and Puerto Rico.
National Stores' bankruptcy filing on Aug. 6 indicated the company is expected to cut approximately 150 jobs in L.A. County, Orange County and the Inland Empire. Six of the 59 stores located in the region are set to close, according to company spokeswoman Jennifer Mercer.
The company plans immediate going-out-of-business sales at Fallas stores in Hollywood, Norwalk, Northridge, Burbank and Santa Ana.
The cuts are expected to total 74 stores companywide, driven by three factors: the acquisition of discount clothing chain Conway in 2014; a data breach that proved to be costly for the company and spooked its lenders; and weather conditions on the East Coast that temporarily shut down multiple stores.
Michael Fallas, chief executive of National Stores, said in a statement that the privately-held company had historically been profitable and sees a path back to the black through restructuring.
"Our goal is to emerge a reorganized company poised to compete in an evolving industry so that we can continue to serve the communities where we are rooted," he said.
The company listed both its assets and liabilities in the bankruptcy filing as between $100 million and $500 million, according to court documents, but declined to give more specific figures about its balance sheet.
"That's a range, we don't know the specifics but I think it matters if assets are closer to $100 million and liabilities to $500 million. Or vice versa," Kaufman said.
For reprint and licensing requests for this article, CLICK HERE.
Prev Next