CBRE Reorganizes Structure, Executive Team
Friday, August 17, 2018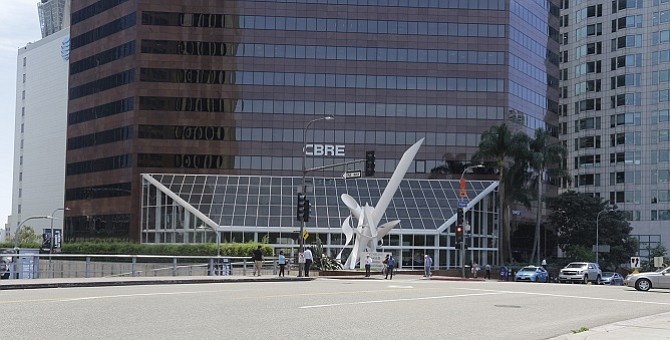 The downtown Los Angeles-based CBRE Group Inc. is reorganizing its structure into three global businesses: Advisory services, global workplace solutions and real estate investments.
The reorganization will take effect on Jan. 1, 2019. That month, CBRE will eliminate the chief executive roles for the Americas, EMEA (Europe, Middle East and Africa) and Asia Pacific region. along with the promotion of several senior executives. The company also will elevate the 12 existing advisory services divisional presidents across the globe.
• Mike Lafitte was promoted to global chief executive officer of advisory services, responsible for leasing, capital markets, property management and other services throughout the world.
• Jack Durburg was promoted to the new position of global chief operating officers.
• Steven Swerdlow will be promoted to group president, whose duties will include responsibility for global research and marketing. He will report directly to Durburg.
• Daniel Queenan was promoted to global CEO of real estate investments and is responsible for CBRE Global Investors, its global investment management arm, and Trammell Crow Co., its development services business.
• Martin Samworth will be promoted to group president and CEO of advisory services for Europe, Africa and Asia Pacific. He will continue to report to Lafitte.
Within CBRE Global Investors:
• Ritson Ferguson will continue as CEO of CBRE Global Investors and shall report to Queenan.
• Jeremy Plummer has been promoted to chief investment officer.
• Sophie van Oosterom has been promoted to CEO of EMEA, the firm's largest business.
Within CBRE Global Workplace Solutions:
• William Concannon will continue as global CEO of the firm, which comprises facilities management, management consulting and other tasks.
• Ian Entwisle will be promoted to CEO of Global Workplace Solutions wing for Europe, Africa and Asia Pacific.
The promotions of Lafitte, Durburg and Queenan are effective immediately and they, along with Concannon, will report directly to Bob Sulentic, CBRE's president and CEO.
In a statement, Sulentic said the reorganization "will drive more efficiency and accountability with our management team and provide investors with more transparency into the company's performance."
On Friday's stock market, CBRE shares rose 1.4 percent to $47.54 per share.
Real estate reporter Ciaran McEvoy can be reached at cmcevoy@labusinessjournal.com or (323) 556-8337.
For reprint and licensing requests for this article, CLICK HERE.