Arizona State Announces Move into Herald Examiner Building
Friday, August 17, 2018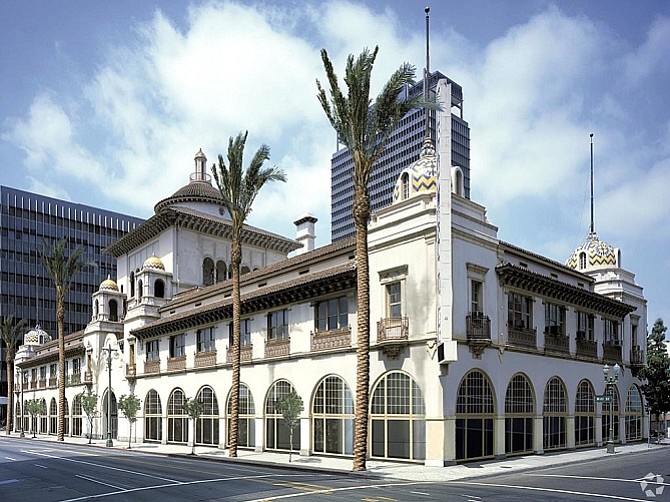 Arizona State University will occupy the vast majority of the Los Angeles Herald Examiner building in downtown, the university said Aug. 17. The move signals the school's growing entry into California, and a facelift for a historic, century-old structure.

See related story: "Sun Devil in the Details for Downtown?"
The university will occupy the bulk of the more than 100,000-square-foot building. The building was owned for more than a century by Hearst Corp., and it is now jointly owned by Hearst, New York City's Georgetown Co. – which bought a stake in 2015 – and now University Realty and Enterprise Partners, Arizona State's non-profit investment entities.
Lease terms and Arizona State's ownership stake in the building were not disclosed.
A jewel of Moorish architecture that is known for its ornate lobby, the building sat mostly unused since the Herald Examiner closed operations in 1988, save the occasional movie shoot.
Its disuse changed when Georgetown Co. stepped in, and announced last year that upscale Republique café would be a first-floor tenant of the building.
There are no immediate plans for tenants beside Arizona State and Republique, according to a Georgetown Co. spokesman.
ASU has not disclosed what university programs will occupy the building or when classes might begin.
University spokeswoman Katie Paquet did indicate that the Walter Cronkite School of Journalism and Mass Communications and Herberger Institute for Design and the Arts would hold classes at the building at some future date.
Herberger currently offers some classes at Arizona State's Santa Monica campus. Paquet said that there are no plans to shut down or significantly change the school's Santa Monica campus, which opened in 2013.
In a statement, Arizona State President Michael Crow trumpeted the move as a breakthrough partnership with the city of Los Angeles.
"We are excited to be taking part in the resurgence of L.A.'s downtown," Crow said. "Not only does the building illuminate the city's rich history dating back more than a century, we look forward to our presence there to play an important role in adding to the downtown's intellectual, cultural and economic vibrancy. We already take seriously our responsibility to the enhancement of the community, but this growing engagement will allow us to provide students and faculty creative new learning experiences, work with new strategic partners, and participate in the critical issues facing the nation's second largest city."
Media and entertainment reporter Matthew Blake can be reached at (323)556-8332 or mblake@labusinessjournal.com
For reprint and licensing requests for this article, CLICK HERE.