L.A. Airport Board Approves Lease Agreements for Consolidated Car Rental Facility
Thursday, August 16, 2018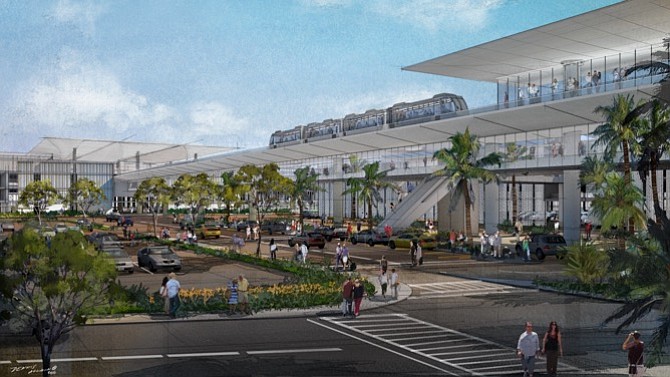 The Los Angeles Board of Airport Commissioners on Aug. 16 approved lease agreements of up to 25 years with seven major car rental companies operating near Los Angeles International Airport to move into a consolidated car rental facility east of the airport when it is slated to open in 2023.
The consolidated car rental facility, which has an estimated construction cost of $1 billion, will be located two miles east of LAX, next to the 405 Freeway; a planned automated people mover will connect the facility to the airport terminals. Four teams of companies have submitted bids to design, build, operate and maintain the facility; the airport board is scheduled to make its recommendation for one of those teams next month.
LAX is the second-largest rental car market among airports in the U.S., with an average of 267,000 vehicles rented monthly, according to Los Angeles World Airports, the city agency that operates LAX.
The seven car rental companies whose lease agreements the board approved Aug. 16 represent 14 rental brands that generate roughly 99 percent of the $843 million in 2017 local revenues from car rental companies paying fees to Los Angeles World Airports. Only Midway Auto Group, owned by billionaire Don Hankey – #25 on the Business Journal's Wealthiest Angelenos list – did not sign on to this round of lease agreements; Midway accounted for about a 1 percent market share.
"One of our goals at LAX is to provide a more convenient, efficient, and sustainable experience, Sean Burton, airport commission president, said in a statement following the approvals. "Today's lease agreements ensure that our guests will have access to some of the most recognizable brands in the rental car industry in one easily accessible location."
The seven car rental companies in the lease agreements are:
• Avis Budget Car Rental (operator of the Avis, Budget and Zip Car brands)
• Enterprise Rent-A-Car Co. of Los Angeles (Enterprise, Alamo, National)
• Hertz Corp. (Hertz, Thrifty, Dollar)
• Fox Rent A Car Inc. (Fox)
• DR Car Rental Inc. (Payless)
• Sixt Rent a Car (Sixt)
• Advantage Opco (Advantage, EZ)
The lease agreements are for a period of 20 years, with the option to extend an additional five years. The annual lease payments will be based on a formula that includes a percentage of gross revenue, a base land rent rate and an array of other fees.
Economy, education, energy and transportation reporter Howard Fine can be reached at hfine@labusinessjournal.com. Follow him on Twitter @howardafine.
For reprint and licensing requests for this article, CLICK HERE.