U.S. News Ranks L.A. Hospitals Among the Best in the Nation
Tuesday, August 14, 2018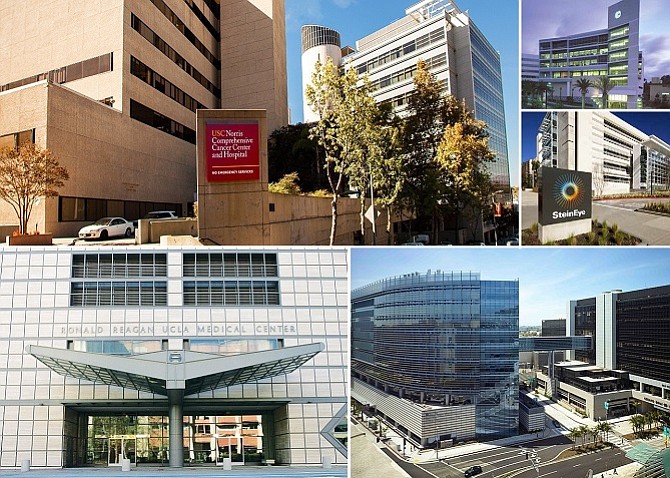 This story has been updated to include recognition of Providence St. Joseph Health hospitals.
Los Angeles County hospitals ranked among the highest in the nation and California, with UCLA Health and Cedars-Sinai both placed among the Top 10, according to a U.S. News and World Report assessment released Aug. 14.
The annual U.S. News "Best Hospitals 2018-2019" ratings listed UCLA Health hospitals in Westwood and Santa Monica ranked No. 1 in Los Angeles, No. 2 in California and No. 7 in the nation.
"UCLA Health is proud to once again be recognized for comprehensive excellence in patient care," said Johnese Spisso, president of UCLA Health and chief executive of the UCLA Hospital System, in a statement.
UCLA received Top 10 rankings in 11 specialties, including geriatrics (No. 4), nephrology (No. 5), and ophthalmology at the UCLA Jules Stein and Doheny Eye Institutes.
Cedars-Sinai Medical Center was also placed on the U.S. News Honor Roll as one of the 10 best hospitals in the country.
The Beverly Grove medical center ranked No. 8 in a select group of 20 Honor Roll hospitals and also had 12 medical specialties ranked nationally in the magazine's latest hospitals rankings. Two of those specialties – cardiology and heart surgery, and gastroenterology and GI surgery – both ranked No. 3.
"At Cedars-Sinai, we strive to strengthen our community by delivering the highest quality patient care, advancing the frontiers of medical research and striving to enhance the health of those we serve," said Thomas M. Priselac, its chief executive.
The U.S. News hospital rankings are based on various care-related measures at 4,500 hospitals across the U.S., including patient outcomes, patient safety, technology and reputation, risk-adjusted survival and readmission rates and quality of nursing.
At the top of this year's honor roll is the Mayo Clinic of Minnesota, followed by Cleveland Clinic of Ohio and Johns Hopkins Hospital of Maryland. UCSF Medical Center in San Francisco took No. 6
Keck Medical Center of USC, which includes Keck Hospital of USC and USC Norris Cancer Hospital, was ranked among the top 50 nationwide in nine specialties and among the top three in metro Los Angeles and the top seven in California.
Its highest ranked specialty was urology, at No. 9. Its cancer care was rated No. 17, making it the highest-ranked cancer specialty in Southern California.
"This year's U.S. News Best Hospitals rankings reflect Keck Medicine of USC's steady ascension to being one of the top academic medical centers in the country," says Tom Jackiewicz, chief executive of Keck Medicine of USC, in a statement.
Prev Next
For reprint and licensing requests for this article, CLICK HERE.