Westwood Weed Whacker?
UCLA-developed herbicide shows promise, but commercialization difficult
Friday, August 10, 2018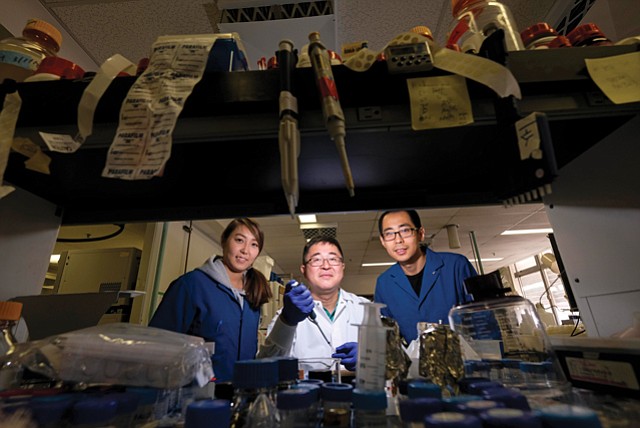 UCLA researchers studying common molds have developed a weed killer they believe could lead to the first new class of commercial herbicides in decades.
The naturally occurring killer microbe was discovered after months of sifting through fungi DNA sequences, with the findings published in the peer-reviewed science journal Nature last month.
University officials have reached out to agrochemical companies hoping to find a partner to help develop the herbicide commercially. Researchers believe it can protect crops as weeds become more resistant to commercial herbicides on the market currently.
"We believe we have a strong case," said Lukasz Kowalik, a life science specialist in business development for UCLA's Technology Development Group. "I am very excited. This is a completely new class of compounds. It's natural. It has the potential to enter a $30 billion market by 2025. It could most certainly be a blockbuster."
But the road to a new herbicide is a long one. The cost of developing a new weed killing product from such a compound can run between $100 million and $300 million, according to Kassim Al-Khatib, director of the Weed Research and Information Center at UC Davis and a weed scientist with 35-years' experience.
Because the process for developing new products in the space is so expensive, innovation is largely commercialized by such large agrochemical firms as BASF SE, Bayer AG, DowDupont Inc., Syngenta AG and FMC Corp. UCLA – and whatever partner the university picks to help it realize a commercial product – could go head-to-head with these companies' widely used herbicides, which include glyphosate, commonly known as Roundup.
Another challenge on commercial herbicide development – compared with pharmaceutical drug development – is the price consumers will pay for the end product. Pharma companies can recoup billions in investments through high drug prices, while agrochemical companies' herbicide price point is limited by commodities markets and the prices farmers can charge for their crops.
That's a moving target, too.
While UCLA pegged the commercial herbicide market at upwards of $30 billion within a few years, UC Davis' Al-Khatib pegged it as closer to $5 billion, with a $10 billion global market.
Al-Khatib said there wasn't enough data to assess the commercial potential of UCLA's herbicide yet, though he said it was a good idea to find a new tool to manage resistant weeds.
"You can have a good idea, you can have a gene or innovation in the lab, and not be able to convert it into a commercial product," he said. "But if it's nonselective, if it works, if it can be delivered, if it can be formulated, if it can be simplified, yes – it could be big."
For reprint and licensing requests for this article, CLICK HERE.
Prev Next