Jerde Trying to Win More Local Work
Architecture firm turns back toward L.A. after focus on Asian markets
Friday, August 10, 2018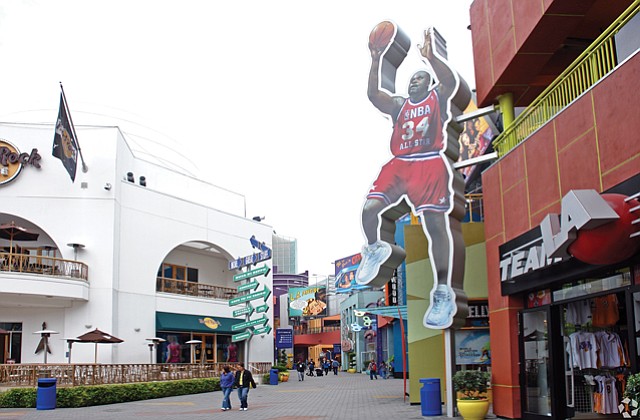 Opportunities to redesign struggling shopping malls in Los Angeles County led downtown-based architecture firm Jerde Partnership Inc. to increase its U.S.-based activity, according to one of the firm's executives.
About 10 percent of the firm's current workload is domestic, but the company's goal is to boost U.S. business to 40 percent of revenue, according Paul Martinkovic, Jerde's chief financial officer.
Martinkovic declined to give specific revenue figures for the company.
The firm, which this year relocated to the CalEdison Building at 601 W. 5th St. in downtown from Venice, are the designers behind the $30 million makeover of the Promenade at Howard Hughes Center in Westchester.
Jerde also is working on projects in the San Gabriel Valley and the Westside, though Martinkovic declined to give further specifics.
The onset of the Great Recession in the U.S. led Jerde to turn much of its focus to a more prosperous Asia about 10 years ago. Among the projects that helped the firm get through the recession was the Lerthai Center shopping mall in Shijiazhuang, China.
Today's strong economy in Los Angeles County coupled with a severe housing shortage and struggling retail centers were factors in why Jerde decided to boost its local work, Martinkovic said.
Jerde executives believe the firm can help the region go vertical as its population density increases and land is built out.
"We have a lot of ideas about urbanization and density and how cities can solve their problems because we've been working in very dense urban environments in Asia," Martinkovic told the Business Journal.
Martinkovic also said regulatory red tape and community opposition to construction projects need to change "if the city wants to be positioned as a global city, a leader."
The firm, founded by the late Jon Jerde, is perhaps most renowned for its shopping center work. Its portfolio includes San Diego's Horton Plaza, Universal CityWalk Hollywood, the Bellagio and Wynn hotels and casinos in Las Vegas, and the overhaul of Santa Monica Place.
Jerde also did work for the 1984 Summer Olympics.
L.A. Construction Costs Surge
Los Angeles was among the nation's top three cities in terms of rising construction costs in the second quarter, sporting a 5.1 percent year-over-year increase, according to Rider Levett Bucknall, a United Kingdom-based property and construction consultancy firm.
Two other West Coast cities saw the nation's highest increase in construction costs: San Francisco led the pack with a 6.9 percent annualized increase and Portland came in second with a 6.3 percent year-over-year gain.
For reprint and licensing requests for this article, CLICK HERE.
Prev Next