Energy Firm Bets on Subscribers
Utilities: Flat fee on renewables key to model
Friday, August 10, 2018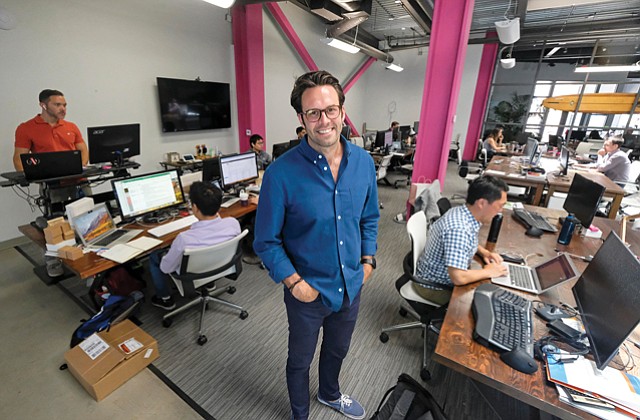 Long hot summers often find folks running air conditioners nearly 24/7 – and then fretting over their power bills.
Sound familiar?
But what if customers knew their power bill would remain the same from month to month, like a subscription to Netflix? And what if, in the process, they felt a little bit better knowing they're also adding to the proportion of electricity coming from wind, solar and other renewable sources?
That's the pitch from Santa Monica-based Inspire Energy Holdings, a renewable energy provider that signs up customers with flat monthly rates for electricity. Inspire then procures power for its customers from companies that put power generated from wind and solar sources onto the grid.
Chief Executive Patrick Maloney calls the company "the world's first subscription service for clean energy."
Inspire must manage and minimize two huge risks to make it work on a daily basis: It has to discourage its customers on flat monthly rate plans from using excessive amounts of electricity; and figure ways to offset the often wild swings in energy prices on the open market.
"Inspire is trying to take something where people have long paid according to how much they use and turn it into a flat monthly subscription model," said Dan Finn Foley, senior analyst with Wood Mackenzie, an energy consultancy based in Edinburgh in the United Kingdom. "This is a long-term risky bet."
Quick rise
Inspire posted $65 million in revenue last year and is focused on growth.
Maloney learned the industry as a partner in a previous energy procurement company called Energy Plus in Philadelphia, which sold in 2011 to Princeton, N.J.-based NRG Energy Inc. He launched Inspire in 2014 and started selling wind power on a subscription basis in Pennsylvania and other states along the Eastern Seaboard.
Inspire obtained $5 million in seed money from Venice-based Crosscut Ventures and has raised $30 million from other investors. Inspire inked a deal in February with Shell Energy North America, a unit of Royal Dutch Shell, in which Shell agreed to provide Inspire with a $150 million revolving credit facility and an additional credit line of unspecified amount for energy trading.
The agreement followed an announcement by Shell that it would commit $2 billion a year on development of renewable energy sources through 2020, though it was not clear whether the deal with Inspire counted toward that total.
Shell Energy North America did not respond to a request for additional comment.
For reprint and licensing requests for this article, CLICK HERE.
Prev Next