Cedars-Sinai Joins Forces With Salix Pharmaceuticals to Research Gut Disorders
Friday, August 3, 2018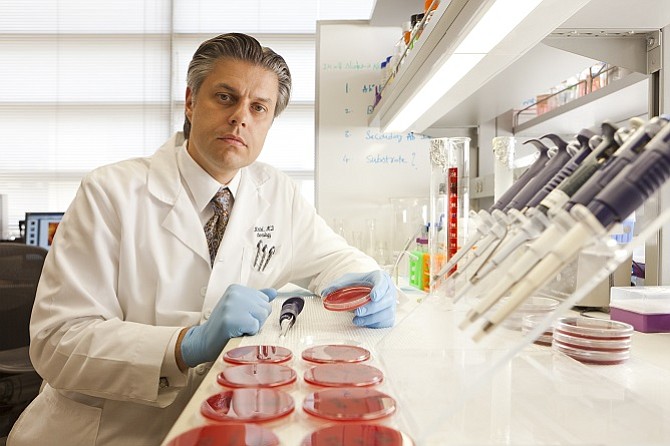 Cedars-Sinai Medical Center has entered into an agreement with New Jersey-based Salix Pharmaceuticals to investigate the treatment of gastrointestinal disorders.
The Bridgewater-based division of Bausch Health Companies Inc. announced Aug. 3 it had entered into the research agreement with the Beverly Grove hospital to study therapeutic treatments related to conditions of the gut microbiome.
Under terms of the deal, the Cedars-Sinai lab of world-renowned microbiome scientist Dr. Mark Pimentel will continue research into the microbiome that led to the discovery of the drug Xifaxan for irritable bowel syndrome with diarrhea.
Salix has the option to acquire any therapeutic invention discovered through research, expected to begin in the third quarter of 2018.
"My philosophy is to treat these microorganisms, in other words, find the right drug to treat the bug," said Pimentel, executive director of a new Medically Associated Science and Technology (MAST) program, in a statement. "Through this research agreement with Salix, we look to continue to harness the potential of the microbiome in the treatment of GI disorders."
Pimentel invented the antibiotic drug Xifaxan (also known as rifaximin), which has raked in $47.5 million in royalties for Cedars-Sinai since it hit the market in 2015.
He has also invented a breath test that can detect gut gases linked to gastrointestinal distress, as well as a new blood test for digestive diseases that is about to enter the U.S. market.
The MAST program at Cedars-Sinai, launched in June, focuses on the microbiome – the ecosystem of single-cell organisms can help digestion and guard against infections.
The tiny gut bugs can also thwart healthy GI functions, and are linked to irritable bowel syndrome and small intestinal bacterial overgrowth that can cause chronic diarrhea and related illnesses.
"The gut microbiome represents a great deal of promise and opportunity for disrupted change in gastroenterology," said Mark McKenna, president of Salix, in a statement. "This research agreement embodies Salix's commitment to working with leaders in the field to advance science and further our goal of bringing new and innovated treatments to patients."
Health business reporter Dana Bartholomew can be reached at dbartholomew@labusinessjournal.com. Follow him on Twitter @_DanaBart.
For reprint and licensing requests for this article, CLICK HERE.