Deal Takers
Port of Long Beach terminal at center of deal under review by little-known Committee on Foreign Investment
Friday, April 27, 2018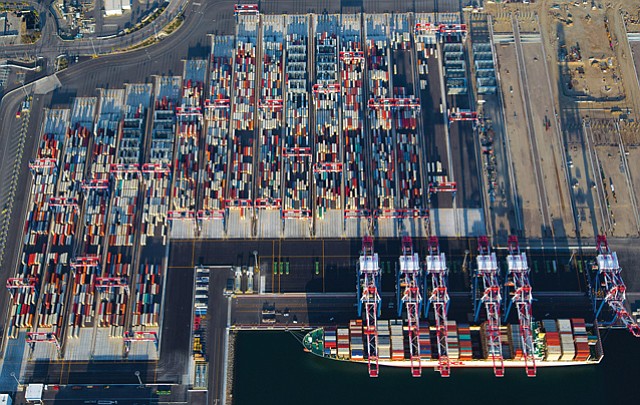 U.S. regulators are reportedly reviewing China-based Cosco Shipping's acquisition of a container terminal at the Port of Long Beach as part of its $6.3 billion pending purchase of another shipping line.
The Committee on Foreign Investment in the United States, or CFIUS, is a federal government entity that meets in secret and is powerful enough to kill multi-billion-dollar international deals. The committee did not return calls requesting comment.
The group is comprised of the heads of the Treasury, Justice, Homeland Security, Commerce, Defense, State and Energy departments, with additional members from several other federal agencies, according to CFIUS' website. The committee is chaired by Treasury Secretary Steven Mnuchin.
"The role of CFIUS is to determine whether an acquisition would adversely affect the national security of the U.S," said John Forry, managing director in the Century City office of CBIZ MHM, where he specializes in international tax, finance and investment.
CFIUS hasn't publicly acknowledged its concern with the Cosco Shipping deal, but last month it nixed Singapore-based Broadcom Corp.'s high-profile takeover efforts of San Diego-based Qualcomm – a chip maker for a wide variety of electronics – last month. President Trump signed an order based on a CFIUS' recommendation that officially ended that attempted deal.
The Broadcom rebuke was significant because it appeared to be the first time the committee seemed to intervene in a deal before it was done, suggesting a more active oversight role by the Trump administration.
"The power [CFIUS] has is that they can recommend to block or undo a merger even after it's happened," Forry said. "The President doesn't always take their recommendation but the committee has been more forceful recently."
The Cosco deal is expected to close in June. The initial terms of its acquisition of the Orient Overseas International Ltd. shipping line includes a 40-year terminal lease at the Port of Long Beach, set to expire in 2052. Cosco has reportedly offered a divestiture of the terminal to keep the deal on track amid the perceived concerns of CFIUS, according to the Wall Street Journal.
Neither Cosco nor Orient Overseas could be reached for comment last week.
The port is working to be ready to address the issue if and when it arises.
"Here at the port we are trying to see what possible scenarios may arise due to the possible divestiture, but we don't have any further comments than that," said Lee Peterson, spokesman for the port.
CFIUS' concern over the Cosco acquisition is reasonable, Forry said.
"When you have the power to operate a container port, you have the ability to let goods in and out that might otherwise not be allowed."
CFIUS Hit List
A few prominent examples of the committee's recent moves to stop deals
CFIUS objects to Broadcom's takeover bid for Qualcomm, and President Trump signs an order putting an end to the possibility of any deal last month.
Ant Financial, a China-based electronic payments company controlled by Jack Ma, founder of Alibaba, wanted to acquire Dallas, Texas-based Moneygram for $1.2 billion. Both sides said CFIUS blocked the deal in January.
Chinese-backed Silicon Valley private equity firm Canyon Bridge Capital offered $1.3 billion to buy Portland-based Lattice Semiconductor in September 2017, but was blocked by order from Trump. Canyon Bridge founder Benjamin Chow was convicted of insider trading on April 24 relating to the deal.
For reprint and licensing requests for this article, CLICK HERE.