$130M in Wings on Port Pilot Program
TRADE: Macquarie commits to longer view
Friday, April 20, 2018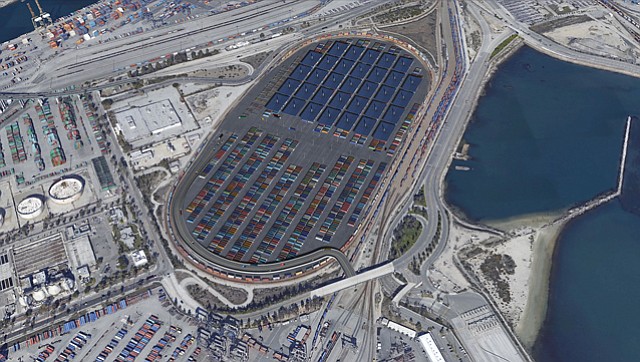 There's $130 million in funding committed to a public-private partnership to build a container staging facility at the Port of Los Angeles, a project that has yet to receive state regulatory approval and to go through a pilot program to test how well it reduces container congestion at the terminals.
The public-private partnership, called the Harbor Performance Enhancement Center, tapped in Macquarie Principal Finance, a subsidiary of Australia-based financial services firm, Macquarie, to finance the project.
HPEC is backed by the Port of Los Angeles and a consortium led by Jonathan Rosenthal, chief executive of HPEC and chief executive of Sawtelle-based investment firm Saybrook Corporate Opportunity Funds.
Rosenthal also serves as chairman of the board of directors of Total Transportation Services, a trucking company that filed for chapter 11 bankruptcy protection in 2016, shortly after it lost legal claims filed by truckers working as independent contractors who wanted employee status.
Rosenthal said his latest venture has drawn support from various groups with interests in the ports' operations, including some that have found themselves at odds in the past.
"We have broad support from environmental organizations like the Natural Resources Defense Council, Coalition for Clean Air as well as the SCAQMD (South Coast Air Quality Management District), and supply chain partners like retailers, truckers and more," said Rosenthal.
The financial commitment from Macquarie is for a minimum of 10 years, he said, which seems likely to be long enough to accomodate the regulatory procedures and the testing period of the pilot program.
The search for a financier for the project took about a year.
"We hired JLL [commercial real estate brokerage firm Jones Lang LaSalle Inc.] and they pulled together interested parties and with their global reach and got us Macquarie," said Dan Pimentel, chief financial officer of Saybrook.
The goal of HPEC is to increase efficiency in cargo movement by utilizing a parcel of land on Terminal Island, which sits in the middle of the San Pedro twin-port complexes and has been utilized for various port operations over the years by the Port of L.A. and the Port of Long Beach.
HPEC envisions a 110-acre facility that would be available for container storage for an estimated daily fee of $30 to $40 a day, Pimentel said. The facility plans to take about 3,500 truckloads a day and be open for container pickups 24 hours at full capacity.
Neither port has facilities that provide 24-hour service on container pickup (see related item in Manufacturing & Trade column, page 12).
For reprint and licensing requests for this article, CLICK HERE.
Prev Next