Leiweke's New Look
AEG vet and music man Azoff bring $100M backer; partner with MSG on arena-sized challenge
Friday, April 6, 2018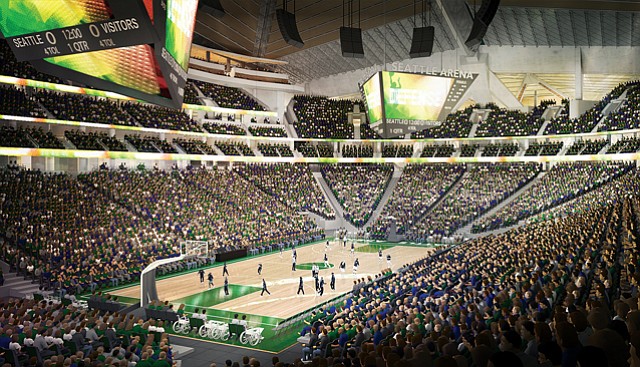 Los Angeles — Tim Leiweke watched in December as the Seattle City Council swiftly approved his company's $660 million plan to revamp the KeyArena, and possibly lure the National Basketball Association and National Hockey League.
The council's action marked a milestone for Westwood-based Oak View Group, or OVG, a sports and entertainment facilities company founded in late 2015 by Leiweke, the former president of Anschutz Entertainment Group, and Irving Azoff, a legendary talent manager and former chairman of Live Nation Entertainment Inc.
"We will be of Seattle, by Seattle, for Seattle, from Seattle," Leiweke had said amid Oak View negotiations with the city. "We are Seattle."
Close observers of Oak View say that the company could become a force in live entertainment management, an industry galvanized by the music business's focus on live events and the growing profitability of sports leagues including the NBA.
The firm already enjoys an alliance with Madison Square Garden Co., and poses a possible rivalry with Leiweke's former employer, downtown-based AEG, a global presence in live entertainment.
Menlo Park-based private equity group Silver Lake poured a reported $100 million into Oak View for an undisclosed share of the business last month.
But Oak View's success – in Seattle, Los Angeles or elsewhere – is not guaranteed.
One possible roadblock is that there doesn't appear to be a market in Los Angeles for new venues or facilities renovations, according to Gary Toebben, president and chief executive of the Los Angeles Area Chamber of Commerce.
"I've talked to Tim, but none of his possible projects are in Los Angeles," Toebben said, adding that current facilities projects – for example, renovations to the United Airlines Memorial Coliseum – do not include Oak View.
Oak View also seems foreclosed from playing the long game on developing 2028 summer Olympics projects.
"There is no current Olympic work," said Matt Rohmer, spokesman for LA2028, the organizing committee for the 2028 L.A. Olympic bid. Rohmer said that the games can be produced using existing venues.
Leiweke declined comment through a spokesman, citing schedule conflicts. Requests to interview Azoff or have the company answer specific questions were not returned.
Center stage
Leiweke became president of AEG in 1996, and his role coincided with the company's development of the Staples Center and LA Live. Leiweke's local profile hit a high point during efforts to bring a National Football League team and stadium downtown. But the football stadium plan unraveled, and in 2013 AEG founder Philip Anschutz fired Leiweke for reasons AEG has never discussed. AEG declined comment for this story.
Leiweke then spent a year as president of Toronto's Maple Leaf Sports & Entertainment before returning to L.A. to start Oak View and pair his sports experience with Azoff's music resume.
"Tim established a great reputation in Los Angeles," Toebben said. "He got deals done."
"He tried and failed on several occasions to bring an NFL team to Los Angeles," Toebben noted. "But in hindsight it was pretty hard to bring an NFL team here unless you owned an NFL team."
Azoff for his part has managed arena rock talent since the early 1970s. He abruptly quit as Live Nation Entertainment's chairman in 2012, citing at the time a desire to enter into the sports business.
After leaving Live Nation, Azoff started Azoff MSG Entertainment, at which he is still listed as chairman and president. The company combined his music management empire and MSG's clout in live entertainment.
MSG owns 25 percent of Oak View, according to a Securities and Exchange Commission filing.
Oak View's first order of business has been establishing an arena alliance, which is comprised of 26 stadiums across North America – including Madison Square Garden and the MSG-owned Forum in Inglewood.
The group meets twice a year to discuss event scheduling, security, sponsorship and other issues.
The alliance does not include any stadiums owned or operated by AEG.
It does feature many of the biggest venues in the country, such as Chicago's United Center. It is not clear if Oak View provides scheduling services to these venues or simply provides, according to the company's website, "evaluation of event scheduling to maximize revenue and attendance."
"OVG bills itself as 'disruptive' in the arena management business, but I don't know whether they are distinctly better at it than others," said Roger Noll, a Stanford University economist.
Key questions
Oak View does have other ventures in play, however.
The firm has joined an investment team that is moving the National Hockey League's New York Islanders back to Long Island, and it has bought up trade publications, including Venues Now and the concert industry's Pollstar.
The biggest play, though, is the KeyArena revamp, former home of the NBA's Seattle SuperSonics – which moved to Oklahoma City in 2008 and became the Oklahoma City Thunder – and current home to the Women's National Basketball Association's Seattle Storm.
In winning Seattle City Council approval, Leiweke boxed out Chris Hansen, a hedge fund manager who for years campaigned for his own venue plan that would bring the NBA back to Seattle.
Leiweke has said in interviews with Seattle media that a redone KeyArena is the city's best hope to get back the Sonics. Hansen has of late applauded Leiweke's NHL bid, but the investor maintains the Sonics need a venue separate from KeyArena.
One skeptic on Oak View's KeyArena redevelopment is – perhaps ironically – AEG, which last year pulled its own KeyArena redesign plan, but not before firing shots at Seattle and OVG.
A September letter from Bob Newman, president of AEG facilities, to Ed Murray, then Seattle's mayor, stated:
"We fear the city is driving toward an unrealistic funding structure," and, "We have strong reservations about whether (the OVG) proposal can be achieved consistent with the city's best interests."
Others say it is a potentially bad deal for Oak View and the other KeyArena investors: Hollywood producer Jerry Bruckheimer, and billionaire Texas businessman David Bonderman.
"I found the KeyArena deal puzzling – all private money and no clear possibility for a team in either the NBA or NHL," Noll said. "Over $600 million in private money is more than an arena is worth if they just get the WNBA and NHL, but probably worth doing if it gets an NBA team."
NBA teams are generally valued at well north of $1 billion, while the average NHL squad is worth about $600 million, according to Forbes' annual valuations. It is not clear when an NBA team might relocate or if the league might expand.
Regardless, OVG's first Seattle mission is hockey. The firm now has an office in Seattle, and it has started a season-ticket drive to show the NHL Board of Governor's that people want hockey in Seattle.
The Board of Governors is expected to vote in June on the expansion plan – another possible milestone in Oak View's less than three-year-old history.
For reprint and licensing requests for this article, CLICK HERE.