Intrepid Outlook on Next Generation
Investment banker's door, mind open to younger staff
Friday, April 6, 2018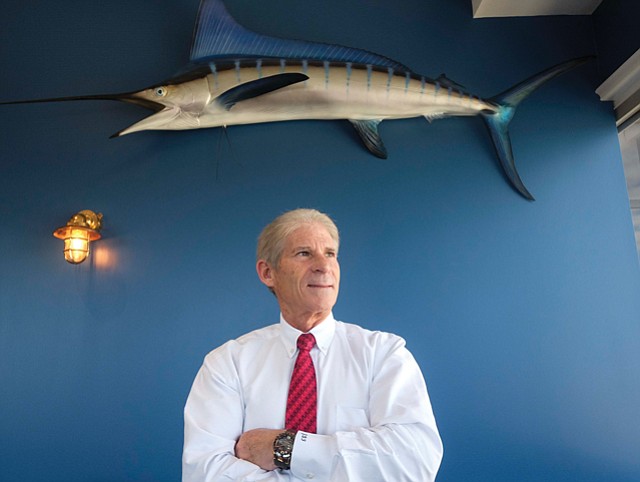 Los Angeles — Too bad the Business Journal's recent visit with Jim Freedman, managing director, chairman and founding principal of Intrepid Investment Bankers, took place on a Tuesday.
That scheduling meant missing "Fridays with Jim," a relatively new offering at the firm's Brentwood headquarters.
Freedman is particularly excited by the sessions, perhaps a more productive interpretation of casual Friday than a happy hour at a local bar. Each Friday at 4 p.m., the firm's young bankers are invited to an informal chat with Freedman in the so-called Yacht Club, a room that reflects Freedman's love of boating in Intrepid's 22nd-floor offices on Wilshire Blvd. in Brentwood. Meetings take place under the watchful eye of the stuffed blue marlin on the sea-blue walls.
Attendees might include those hired into the company's three-year analyst training program right out of college.
"We try to give them a career path where they can move up and stay here for their whole career," Freedman said.
The Intrepid workspace is millennial-friendly, with standing desks, an Xbox gaming room, and kombucha on tap in the recently renovated space in the building the company has occupied since 1989.
"I try to impart some things that I've learned over the years, so they can learn in 10 what it took me 35," Freedman said. "They like it. We have quite good retention rates here, which is unusual for investment banking."
Freedman said Intrepid, which provides merger and acquisition advisory services, has developed special industry groups including software and technology, health care and beauty and cosmetics. The firm does not disclose financials; it ranks No. 8 on this week' s list of investment banks based in Los Angeles County, with 22 investment bankers.
Intrepid associate Lauren Antion, 24, part of the beauty and personal care practice said Freedman's accessibility was key to the firm's culture.
"Jim really takes the time to get to know people at all levels of our firm," Antion said. "Even as a summer intern, he was reaching out, (asking) 'Can I take you to breakfast, can I pick your brain about how to improve the firm? He really believes you have value to add, and that you can bring things to the table that he might not have thought of."
The intergenerational conversation is not limited to Fridays, or to Freedman. Freedman said the doors of senior partners are always open. The company's 10 managing directors include longtime business partners Ed Bagdasarian, who serves as chief executive, and Intrepid President Mike Rosenberg.
"Investment banking is known for very cutthroat, very mercenary type individuals, who just want to make a lot of money and don't care about building things," Freedman said.
L.A. stalwart
Freedman, who holds an MBA from UCLA's Anderson School of Management, launched as an entrepreneur after getting fired from his first finance job as a vice president and head of strategic planning at Foothill Group Inc., then located in Century City, where he lasted for four years before getting into an argument with a new boss.
"The day was October 14, 1982," Freedman said cheerfully. "That's the only time I've been fired –you remember those significant dates. I was young and aggressive, and I thought he was old and stodgy, and not looking at the world in the right way."
Freedman founded Barrington Associates, the predecessor to Intrepid, within a few weeks. Rosenberg, whom Freedman had hired at Foothill, and Bagdasarian, were the company's second and third employees, respectively. The company's highest-profile transaction: The sale of the Los Angeles Kings hockey team to Philip Anschutz and Edward Roski Jr. in 1995.
Barrington Associates was sold to Wells Fargo Securities in 2006, becoming the new owner's wholly owned subsidiary and M&A advisory arm. Freedman, Rosenberg and Bagdasarian struck out on their own again in 2010, launching Intrepid with a determination to maintain the corporate culture they had started.
"We liked to think of ourselves as the Navy SEALs of investment banking," Freedman said. "We're very good at what we do, and we can outperform and outdeliver."
Client David Sackman, chief executive of Lieberman Research Worldwide in Century City, agreed with that assessment, calling the Intrepid team smart, creative thinkers.
"They know how to identify and articulate value in a company that captures more benefit for the sellers than the average investment banking firm," Sackman said.
Late last year, RSI Home Products Inc., an Anaheim manufacturer founded by Intrepid client Ron Simon, sold itself in a deal worth more than $1 billion to American Woodmark Corp., based in Virginia. Simon, who has been involved in various deals with Freedman since 1993, called Freedman a person of high integrity.
"Unfortunately, you measure success by the profits," Simon said. "But I don't think Jim would sell somebody short because there was something in it for him, I know he wouldn't. We have a lot of fun doing deals, and playing. He's an all-around good guy."
At 65, Freedman plans to keep having fun. One pleasure is engaging with young entrepreneurs.
"They are crazy, they are kind of one click off, but they are super interesting," Freedman said.
He's also gratified when financial success leads to philanthropic commitment.
"When we sell a company, the owner generally gets a lot of money," he said. "Our deals are between $20 million to $1 billion. When they have that kind of capital, they tend to give away more of their money. That's what I feel our little contribution to the world is."

Freedman is fascinated by technology, another reason to keep the next generation in his loop. He is buoyed by predictions that all human diseases could be eradicated by 2030. "Not so far away," he muses.
But what about overpopulation?
"Yes, the planet would be overpopulated, but I don't think we're going to be on this planet…at least, not all of us," Freedman said. "You gotta stay one step ahead. Elon Musk is sending these rockets up to Mars. This stuff's happening. To me, it's just exciting."
For reprint and licensing requests for this article, CLICK HERE.