Report: L.A. Freeways Claim Five of Top 10 Traffic Jam Spots in Nation
Wednesday, September 27, 2017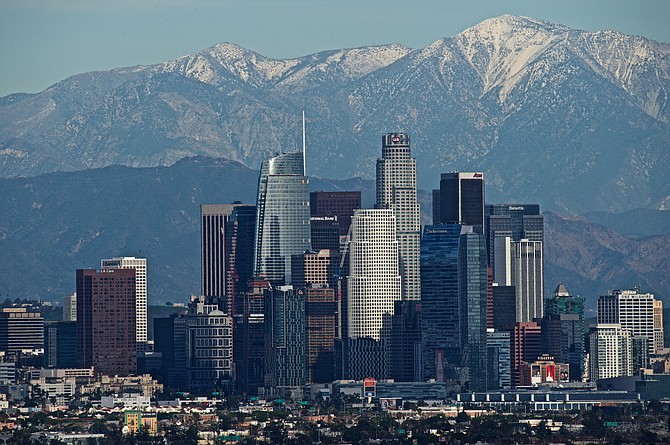 Two L.A. freeways – the 101 and the 405 – claimed five of the top 10 traffic jam locations in the nation in a study released Tuesday on traffic hotspots in 25 major cities by transportation analytics firm Inrix.
The study from the Kirkland, Wash.-based data firm looked at the number of times in March and April that speeds on particular stretches of highway fell to less than two-thirds of uncongested speeds, multiplied that by the length of time the traffic jam lasted, and then calculated the total annual cost in lost productivity that would be expected in 2026 if current trends continue unabated.
"By identifying traffic hotspots and analyzing their root causes, cities can effectively combat congestion and maximize present and future investments," Bob Pishue, senior economist with Inrix, said in a statement.
The northbound and southbound 405 freeway from the Los Angeles International Airport area to the Orange County line came in at No. 2 and No. 3 with a 2026 congestion cost of $1.9 billion and $1.3 billion respectively. The northbound side recorded 2,032 traffic jams during the two-month study period, each one lasting an average 23 minutes. The southbound side recorded 1,403 traffic jams lasting an average of 24 minutes.
These 405 stretches were behind the nation's worst traffic jam spot on Interstate 95 in Washington, D.C., which Inrix projects will have a 2026 congestion cost of $2.3 billion.
The stretch of the 101 freeway from downtown through the Cahuenga Pass came in at No. 4, with 108 traffic jams, but each jam lasting an average of 355 minutes or 6.5 hours. The 2026 projected congestion cost for this stretch is $1.3 billion.
Coming in at No. 6 was the 405 freeway between the 10 freeway and Western Avenue, with 680 traffic jams lasting an average 40 minutes and projected to cost $1.2 billion in 2026. The 101 freeway between the 5/134 freeways split and Liberty Canyon was No. 8 with 241 traffic jams lasting an average of 124 minutes and projected to cost $1.1 billion in 2026.
Economy, education, energy and transportation reporter Howard Fine can be reached at hfine@labusinessjournal.com. Follow him on Twitter @howardafine.
For reprint and licensing requests for this article, CLICK HERE.