Los Angeles Magazine Names New Publisher
Monday, September 18, 2017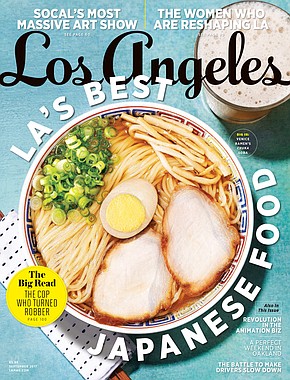 Los Angeles magazine has named media veteran Josef Vann as its new publisher.
The new hire comes several months after a leadership housecleaning at the magazine, spurred by the February acquisition of the 60-year-old publication by Detroit-based Hour Media from Emmis Communications Corp.
The new owner laid off about half-dozen staffers immediately, including Publisher Erika Anderson, Editor-in-Chief Mary Melton and Editor-at-Large Amy Wallace. Executive Editor Matthew Segal stepped in as editor-in-chief following Melton's departure.
The sale was part of Hour Media's acquisition of several Emmis-owned magazines that included Atlanta, Cincinnati and Orange Coast magazines. What was most telling about that sale was the price: Emmis purchased Los Angeles Magazine from Walt Disney Co. for an estimated $30 million. The collective sale price for the four magazines was a mere $6.5 million, according to a Securities and Exchange Commission filing.
Vann was born and raised in Mexico City and has held key regional and national publishing positions, with Cities West Publishing as publisher for Phoenix Home & Garden magazine, and more recently Niche Media, serving as vice president and group publisher of a number of magazines including Vegas, Atlanta Peach, Art Basel, Inside Out, Oceans Drive Dining Guide and Ocean Drive Español.
Vann also founded 37 Second Productions, where he created business development and marketing strategies for New York's Maxim and Televisa in Mexico City, among others.
Vann said the magazine would maintain its current editorial direction despite recent management upheavals. He described Los Angeles' mandate as, "Content for Angelenos, by Angelenos. It gives our cherished readers content that our stakeholders care about, from Best of L.A., to identifying the up-and-coming movers, shakers and chefs, to service journalism."
Related Link: Profit Push May Rewrite Magazine's Local Angle
He added the key to survival for print publications in a digital landscape is niche content, as well as bringing the magazine to life through events and activations. "I've seen that done successfully with this new ownership group," Vann said.

"We're delighted to have a true media leader at the helm of this amazing brand," Hour Media president John Balardo said in a statement.
Hour Media publishes five Detroit area magazines as well as other regional publications around the country.
Contact media and entertainment reporter Diane Haithman at dhaithman@labusinessjournal.com. Follow her on Twitter @dhaithman for the latest in L.A. business news.
For reprint and licensing requests for this article, CLICK HERE.