Hotel Looks to Book Crowds From China
HOSPITALITY: Sheraton eyes San Gabriel Valley boom.
Friday, September 8, 2017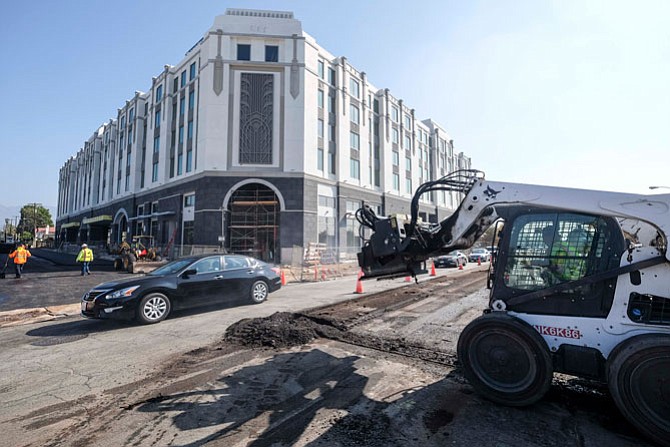 A China-based real estate investment firm sees gold in a new San Gabriel Valley hotel, thanks largely to recent waves of immigrants who have reshaped the eastern flank of Los Angeles County.
Shenzhen Hazens Real Estate Investment Group hopes to cash in on record numbers of Chinese tourists visiting the county with its 288-room Sheraton. The hotel, at 303 E. Valley Blvd. in the city of San Gabriel, is scheduled to open at the end of November.
The hotel is one of a handful being built in the San Gabriel Valley to cater to visitors from China, who are drawn to the concentration of Asian restaurants and prominent Chinese culture.
The majority of the 40,000 or so residents of San Gabriel are Asian and Asian-Americans, according to the U.S. Census. An additional 30 cities that combine for 385 square miles also are part of the San Gabriel Valley, which stretches east of downtown Los Angeles and nearly to the San Bernardino County line.
Many of the San Gabriel Valley cities have been magnets for emigrants from China in recent years. The arrivals have ranged from fortune seekers with hopes of grabbing the first rung on the ladder of the American dream in Temple City and other blue-collar towns to wealthy émigrés who have driven up property values in toney cities such as San Marino.
The new hotel sits in the middle of the action.
"The city of San Gabriel is really in the heart of the San Gabriel Valley in terms of there are a lot of new Chinese immigrants here," said Teddy Yang, director of hospitality operations at Shenzhen Hazens and a 30-year valley resident. "Through past experience we know that a lot of Chinese find they like to stay in more Chinese-concentrated areas."
Los Angeles County beat out New York and San Francisco to welcome a record 1 million Chinese tourists last year, according to the Los Angeles Tourism and Convention Board, which projects an increase in Chinese and other visitors both this year and the next.
Those numbers nearly double the totals reported by the Los Angeles County Economic Development Corp. as recently as four years ago.
The San Gabriel Valley serves a base and jumping-off point for tourists to explore the wider Southern California region, in addition to serving as a destination in its own right.

"So many Chinese tourists want to see Southern California and its attractions – Disney, Universal, Knott's Berry Farm – but they want to lodge and eat in the San Gabriel Valley," said Jeff Allred, chief executive of the San Gabriel Valley Economic Partnership, an economic booster group for the area. "San Gabriel Valley has become a magnet for tourism from Asia. I think it's going to continue for the foreseeable future."
Prev Next
For reprint and licensing requests for this article, CLICK HERE.