M.B.A.s Fade Slightly Into Business Background
EDUCATION: Programs see decline in enrollment as new alternatives attract students.
Friday, September 8, 2017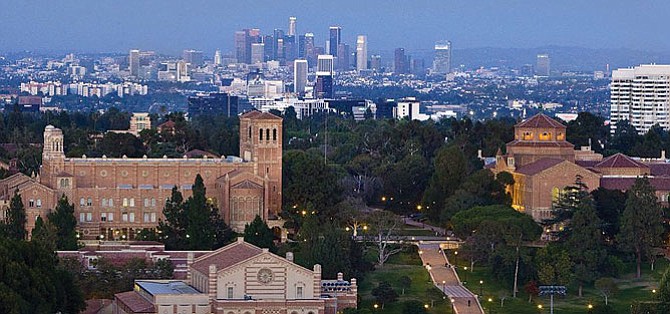 Enrollment in master of business administration programs at Los Angeles County colleges and universities fell last year as students sought out cheaper alternatives, according to data from the Business Journal's annual list of largest M.B.A. programs.
The number of students enrolled in part-time M.B.A. programs for the 2016-17 academic year fell 8.2 percent to 3,469 compared with the previous academic year. The number of students enrolled in full-time programs held steady at just over 2,900, according to data submitted by the schools.
Overall M.B.A. enrollment fell 4.8 percent to 6,375 from 6,694, even as the number of degrees handed out at the 22 programs in the county rose 6 percent to 4,730 and overall enrollment at local universities and colleges grew slightly.
The drop in M.B.A. enrollment might be related to the economy nearing full employment and the changing workplace value of such a degree, according to officials with the various programs.
Typically, when the economy sours, people who are laid off turn to M.B.A. programs to repackage themselves, according to Abe Helou, dean of the College of Business and Public Management at the University of La Verne, whose M.B.A. program ranked No. 4 on the Business Journal's list. When the economy is doing well, more people enroll in part-time M.B.A. programs to put themselves on a faster track for promotions, Helou added.
But right now, he said, while the economy is relatively strong, paths for upward mobility still appear relatively constrained.
"There's a perception that an M.B.A. degree may not allow them (students) to move to a better situation," he said.
The high cost of such programs – total tuition exceeds $100,000 for the top-rated programs at major universities – and the decline of tuition assistance from companies has pushed applicants to seek out cheaper alternatives as well, Helou said.
Those trends are occurring nationally. For example, according to the Graduate Management Admission Council, which oversees the GMAT test, 53 percent of two-year M.B.A. programs reported declines in applications last year.
New strategies
Local business schools have responded by offering more – and cheaper – online courses and other business-related degree programs, including master of science degrees in finance and data analytics. The result is that potential students seeking to bolster their standing with business degrees have far more options than previous generations.
Both UCLA's Anderson School of Management and Pepperdine University's Graziadio School of Business have greatly expanded their roster of business degree programs.
The Anderson school recently added a master of science in business analytics program; it also offers a master of science in finance engineering, according to Gonzalo Freixes, adjunct professor of accounting and associate dean of the part-time M.B.A. program.
Business schools also are diversifying their options with M.B.A. programs. The Anderson school has expanded its online course offerings, creating a hybrid M.B.A. program with a mixture of online and traditional courses in an attempt to lure more employed people to its programs.
"Since 2012, we have created many flexible pathways to accommodate people who are fully employed," Freixes said. "If you have a job, if you like, you can still earn an M.B.A."
USC's Marshall School of Business has responded to the drop in interest in an M.B.A. degree by intentionally shrinking the class size for its part-time program.
"The idea was that there was a perception that the market for part-time programs had decreased," said Evan Bouffides, assistant dean of graduate admissions at the Marshall school. "We wanted to decrease class size to maintain class quality."
The Marshall school repeated this year in the top slot on the Business Journal list, which ranks the programs by the number of M.B.A. degrees awarded this year. The school awarded 1,194, followed by Graziadio with 1,014 degrees. UCLA's Anderson School, the University of La Verne and California Lutheran University round out the top five.
Overall enrollment up
Meanwhile, total enrollment at the 40 largest colleges and universities in the county grew by a modest 2.5 percent this year to 326,000. UCLA remained in the top spot, with nearly 45,000 students, followed by USC at 44,000 and Cal State University Northridge at just under 40,000. There was no change in the rankings by enrollment for the top 10 local universities.
Enrollment at the county's 22 largest community colleges rose 3.3 percent to 141,000. There was some change among the top 10: While Mt. San Antonio College in Walnut retained the top spot with 12,813 full-time equivalent students, Rio Hondo College in Whittier shot up from No. 11 to No. 2 with 11,307 full-time equivalent students, tying it with Pasadena City College.
For reprint and licensing requests for this article, CLICK HERE.