Hospital Network Shifts ER Strategy
Providence St. Joseph creates outpatient center to handle patients with mental illness.
Friday, September 8, 2017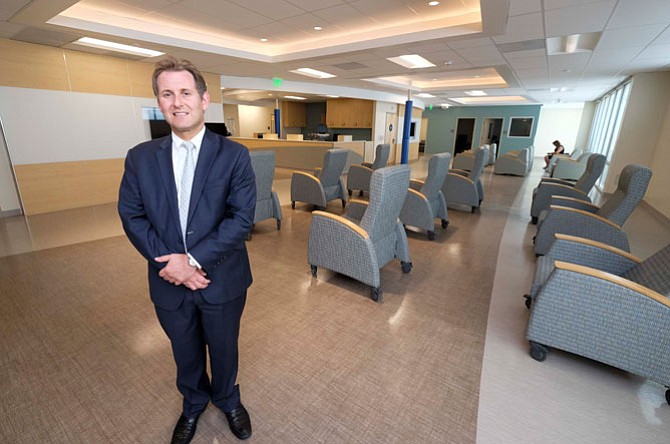 One of the six L.A. hospitals in the newly constituted Providence St. Joseph Southern California health system will aim to relieve its sister facilities of some of the extra expenses and efforts that come with treating the mentally ill in emergency rooms.
Providence Little Company of Mary Medical Center in San Pedro will open the first licensed hospital outpatient crisis stabilization unit in the state. The plan is to avoid problems that can crop up when a mentally ill person becomes panicked by the havoc of an emergency room, a situation that can require extra attention from health care professionals or security personnel, and tie up beds.
"The goal is to help stabilize patients," said Steven Brass, director of medical services at the medical center, speaking about what will formally be known as the hospital's Outpatient Behavioral Health Center. "After 23 hours here, 70 percent of patients can avoid hospitalization."
The facility is expected to be a cost-saver for the hospital's operator, Providence St. Joseph Health of Renton, Wash. Psychiatric ER patients, whose problems can range from suicidal urges to schizophrenia, now wait from nearly seven to 34 hours for a psychiatric hospital bed – three times longer than most medical patients, hospital officials said.
Nearly three-quarters do not require hospitalization, but they account for 6.4 million visits a year to emergency rooms across the nation at a cost of $38 billion, according to CEP America, an Emeryville-based contractor for psychiatric ER services. Inpatient hospital stays can run nearly $2,300 a day.
"The main thing is the cost of boarding a patient in the emergency department and the cost of hospitalization," Brass said.
The $2 million Outpatient Behavioral Health Center, licensed by the city of L.A. and state mental health departments, could open next month in a renovated medical building near the 90-year-old harbor hospital.
The 5,000-square-foot outpatient center holds up to 20 patients.
Separately, Providence St. Joseph Health has consolidated 14 hospitals across Southern California under new leadership and a new umbrella organization spanning Los Angeles, Orange and San Bernardino counties, officials announced Sept. 7.
The new entity, Providence St. Joseph Health Southern California, will be based in Los Angeles under its new chief executive, Eric G. Wexler.
– Dana Bartholomew
For reprint and licensing requests for this article, CLICK HERE.