TV Crews Take Focus
Creative Arts Awards Spread Emmys' Spotlight
Friday, September 1, 2017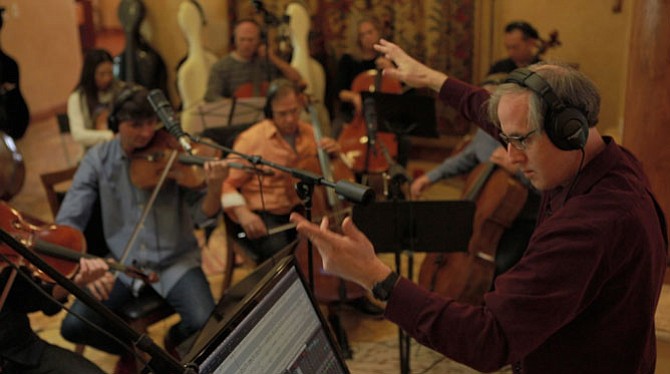 September is Emmy Awards month, and the ceremonies that go with this particular set of statuettes reflect the fact that most of working Hollywood can be found toiling behind the scenes.
The 69th Emmy Awards will be broadcast Sept. 17 live from downtown's Microsoft Theater, honoring household-name actors and writers as well as top-rated TV shows. The event will hand out awards across 27 categories.
A less-heralded affair celebrating so-called below-the-line Hollywood talent will happen over the course of two nights the previous week.
The Creative Arts Awards, running this Saturday and Sunday, will salute artistic and technical achievement in a whopping 93 categories. The ceremony will include a handful of acting awards – for short form and guest performers – but the bulk of the golden statuettes will go to industry players such as costume designers, stunt performers, cinematographers, set designers, composers and makeup artists.
Industry analysts estimate an average television show calls for more than six times the number of below-the-line workers as above-the-line positions, and the economic impact of the less-visible talent creates a ripple effect, according to Doreen Ringer-Ross, vice president for film, TV and visual media relations at West Hollywood's Broadcast Music Inc.
"Each of these people has a team behind them," Ringer-Ross said. "Whenever you are looking at a music score, it's not just a single artist, it's a composer, a music editor, an agent, a whole depth of earnings and people connected with each one of these."
Ringer-Ross said a Creative Arts Emmy can help boost below-the-line salaries for individuals and teams, which can then create greater pay opportunities for others. BMI, a music rights management company, has 19 Creative Arts Emmy nominees, including composer Jeff Beal, up for original dramatic score for Netflix series "House of Cards."
The Los Angeles Economic Development Committee said in its annual report that there were an estimated 156,720 regional entertainment industry jobs in 2015. FilmL.A. Inc., which tracks production in Los Angeles, said the number of TV shoot days in the region was more than three times that of feature films that year 2015, with 15,712 TV production days compared with 4,344 for feature films.
Top talent
The California Film Commission reports an average one-hour scripted TV series directly employs 165 below-the-line crew members, with dozens of additional workers hired during the postproduction phase. Matt Birch, senior vice president and co-head of the physical production department for APA Agency in Beverly Hills, estimates the usual number of above-the-line contributors at 25 or less.
But industry watchers said below-the-line crew members remain far below creative top liners when it comes to salary. Reported above-the-line salaries, particularly for star actors, back up a general consensus that the bulk of a series' budget goes to headliners.
Birch called below-the-line workers the behind-the-scenes structure of a TV or film production, and noted the contribution of a production or costume designer or location manager can span months of prep work.
"This work is not only done on a greater scale in terms of people, but also length of time," he said.
When it comes to dollars, most of the budget tends to be spent above the line.
Birch said that salaries for below-the-line crew members vary widely, and TV producers tend to refrain from revealing budgets. Not all below-the-line jobs, including those in some Emmy categories, are represented by a union that defines minimum salaries for members. But many below-the-line positions have developed industry standard caps when it comes to payment.
Birch gave the example of production designers, who are part of the 2,500-member Art Directors Guild. The guild's weekly art director's minimum is $3,645 for a week's work on a first-year series on a network or premium cable channel, and $3,754 weekly for a series that has been on the air for three years or more.
Additional fees are negotiable dependent on the individual contract, and experienced production designers are likely earning more than the minimum. Birch said a production designer's weekly wage on a network series is capped at about $11,000. A studio or producer might sweeten the pot for a high-profile below-the-line worker by adding a producer credit, which would bring a producer's fee.
Production boom
Even with a producer credit bump, industry standards keep below-the-line workers from enjoying the colossal salaries reported for stars of hit series, especially comedies. The five stars of top-rated CBS comedy "The Big Bang Theory" made entertainment industry headlines earlier this year by deciding to take a $100,000 per-episode pay cut, hoping two fellow cast members would get a raise.
Not that stars Jim Parsons, Johnny Galecki, Kaley Cuoco, Simon Helberg and Kunal Nayyar are going home hungry in support of lesser-paid co-stars Mayim Bialik ($500,000) and Melissa Rauch ($500,000). The $100,000 comes off the top of a reported per-episode salary of $1 million. Even at $900,000 an episode, these actors rank as the top five highest-paid TV comedy players this year.
Collectively, "Big Bang" regulars account for $6 million of the show's reported $10 million-per-episode budget. That figure does not include above-the-line salaries for writers and producers, as well as service contractors and physical production costs. "Big Bang" producers declined to confirm or comment on salaries, but the total line-item cost for below-the-line talent is likely only a fraction of the headliner's pay.
These highest-paying Hollywood jobs are still scarce, but an explosion in the number of TV programs in production – mainly fueled by streaming platforms – means more people are working in below-the-line television than ever before. In scripted television alone, the number of series has doubled, from approximately 200 to approximately 400, according to industry reports.
That growth is reflected in the television awards show hardware as well. Last year, the Creative Arts Emmys handed out 345 individual statuettes, while the Emmy Awards gave out 103. This awards crush became so much that it necessitated the two-night split for the Creative Arts Emmys to accommodate new categories, a decision the Television Academy made last year.
TV Academy Chief Executive Maury McIntyre said that in the past five years the number of scripted series submitted for Emmy consideration has more than doubled. Five years ago there were about 80 drama series submissions, compared with 180 submissions this year.
"We split some categories into hours and half-hours (so) best series would not be such a rarified award," he said. "There is also (more) short-form recognition. There's an evolution going on and the awards reflect that."
For reprint and licensing requests for this article, CLICK HERE.