L.A., Local Businesses Marshall Defenses Online
City's new Cyber Lab aims to spur information sharing about possible hack attacks.
Friday, September 1, 2017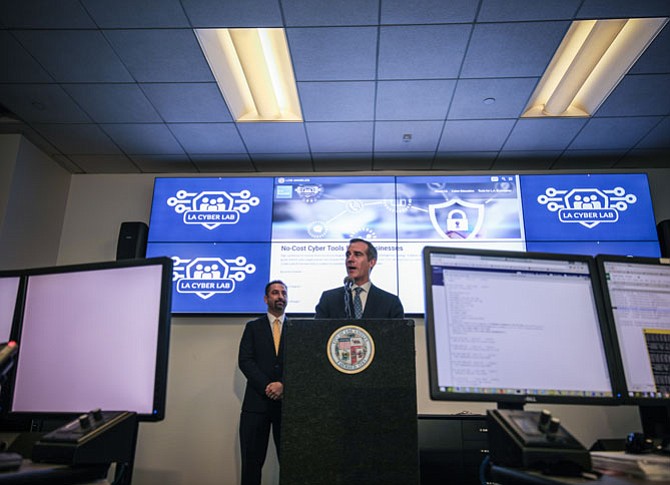 Los Angeles Mayor Eric Garcetti didn't exactly break ground with the launch earlier this month of Los Angeles Cyber Lab, a public-private data-sharing center in downtown that will work to alert local businesses and residents to cyberattacks.
The initiative is hardly the first cyberthreat information exchange network.
However, its focus on sharing information among regional organizations is uncommon, and presents one more local option for an added layer of protection at no charge.
Threat exchange networks tend to be focused around industries – for example, the automotive, financial or maritime industries – because hackers tend to focus their efforts on vulnerabilities within sectors.
Los Angeles is going full bore to develop the regional cyberdefense center, with plans to evolve the lab into a platform where private-sector businesses and L.A. residents share information anonymously about threats, alerting each other to the distinct characteristics of new viruses. Eligible companies have to prove they reside within the city of Los Angeles by showing a business license. There is no cost or membership obligation to join the lab.
"The most common way to block ransomware and viruses is to have a virus signature," said Ted Ross, general manager and chief information officer for the city's Information Technology Agency. "The city of Los Angeles has so many attacks that we often have footprints that aren't available."
The city catches and neutralizes approximately 2,200 intrusions on its servers a week, he added.
Cyber Lab was formed in partnership with Cisco Systems Inc. of San Jose, and 108 companies have signed up as members so far. The organization plans to alert small- and medium-size companies to attacks in real time and provide larger businesses with automated updates to their cyberdefense systems.
The lab's advisory board is led by Garcetti and Chuck Robbins, chief executive of Cisco. Local advisory board members include AEG Inc., Cedars-Sinai, City National Bank, Creative Artists Agency, Dollar Shave Club, O'Melveny & Myers, Riot Games and Southern California Edison.
There are plenty of other cyberattack threat-detection networks that companies can join, but there's no harm in giving City Lab a look, said Austin Berglas, former head of the FBI's New York Cyber Branch and co-head of managed services and incident response with cybersecurity firm BlueTeamGlobal of New York.
"If the city of Los Angeles is going to be offering it for free and you have the capacity in-house to ingest multiple streams of intelligence, then that's what you should do," said Berglas. "You should be partners in as many (exchanges) as you can take."
London Bridge
The United Kingdom voted to leave the European Union last year, but the country is still open for business.
That's according to Greg Hands, a British minister of state for trade and investment, who spoke to the British American Business Council on Aug. 15 at Santa Monica's Fairmont Miramar Hotel, where his talk put a particular focus on the tech sector.
The member of Parliament's reassurance comes as many U.S. businesses reassess Britain's viability as an entry point into continental Europe. Some firms are considering moving operations to Germany, France or the Netherlands.
Hands said that a flexible labor market, English-speaking workforce, low corporate tax rates and a business-friendly environment would ultimately persuade U.S. companies to keep the United Kingdom as their European base of operations.
"I think the U.K. offers the best environment in any European country to set up a business," Hands said. "What we are seeing in the last year since the Brexit vote, we've seen major U.S. companies set up and reaffirm European operations."
He noted Facebook Inc., Alphabet Inc.'s Google and Amazon.com Inc. all hired workers in Britain in the last year.
The United Kingdom expects business as usual with the continent once the dust settles from Brexit, Hands added.
Crowd Pioneer Sold
Crowdfunding platform FlashFunders Inc. of Santa Monica has been acquired by financial services firm Boustead & Co. of London for an undisclosed amount, the company said last week.
The venture was founded in 2012 to take advantage of the online crowd-financing provisions of the Jumpstart Our Business Startups Act. It raised an undisclosed amount from investors including ECA Ventures and Raven Ventures Australia.
The online equity crowdfunding industry has been slow to grow as unaccredited investors have been reluctant to buy shares of risky startups. FlashFunders generated revenue by charging fees to stock issuers.
Boustead founder and Chief Financial Officer Keith Moore said in a statement that FlashFunder's platform would give his firm's clients another tool to help raise money in addition to broker dealer, securities attorney, and advisory services offered already.
Staff reporter Garrett Reim can be reached at greim@labusinessjournal.com or (323) 549-5225, ext. 232.
For reprint and licensing requests for this article, CLICK HERE.