Drug Trial Goes Virtual, Skips Clinic
Friday, October 27, 2017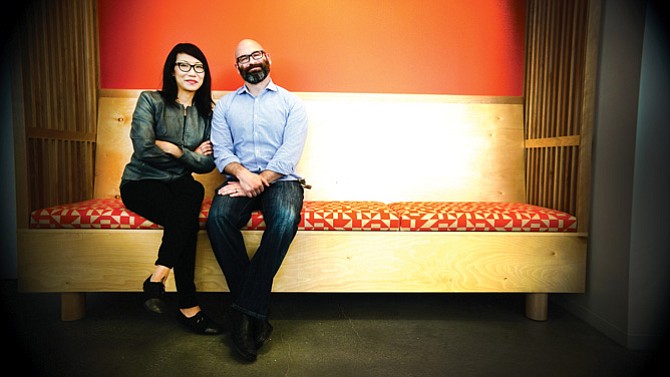 Clinical drug trials have long required biomedical companies to recruit patients willing to trek to medical offices and be examined by teams of research scientists.
Science 37 Inc., a mobile tech and clinical trial company based in Playa Vista, wants to change that.
The company announced the completion last week of a clinical drug trial conducted entirely with an iPhone app – no office visits required.
"We are so thrilled about this," said Dr. Belinda Tan, Science 37's co-founder and chief medical officer. "There are so many wins in this. For patients, it's clearly demonstrated a new way of administering treatment."
The virtual drug trial for an acne treatment is the latest in a movement towards site-less clinical trials, researchers, biotech advocates and U.S. Food and Drug Administration officials said.
"It's definitely a trend," said Dina Lozofsky, executive director of the Los Angeles office of Biocom, an advocacy trade group for California life sciences companies. "One of the things companies struggle with during a middle-phase clinical trial is finding the right people. By moving to virtual trials, it means you can find your patients anywhere."
New frontier
The FDA, which regulates clinical trials, by law cannot comment on developing drugs or specific drug trials, but the agency did acknowledge the emergence of virtual clinical drug studies.
"The FDA is aware of interest in non-traditional clinical trial design," Lauren Smith Dyer, a spokeswoman for the FDA, said in an email. "In a traditional trial, a site with an investigator carries out the study using data collected specifically for the purpose of the study. (But) there is growing interest in possible other sources of trial data, including but not limited to: use of data already collected in the health care system on such events as heart attacks, strokes, deaths, hospitalizations, use of data from a smartphone of exercise trackers to measure activity, and perhaps other data sources."
Science 37 conducted the study in tandem with by AOBiome of Boston. The companies claim their acne trial was the first successfully completed Phase 2b drug study done solely via telemedicine. The companies recruited 8,000 participants with mild-to-moderate acne via Facebook, Instagram and Google ads and then whittled the pool down to 372 patients in 10 states through video chats conducted by doctor researchers. Consent was obtained electronically.
Patients were then mailed a rented iPhone and an acne drug spray produced by AOBiome and studied by Science 37.
For the next 12 weeks, each patient would either apply the living ammonia-oxidizing bacteria Nitrosomonas eutropha or a placebo. Patients would then upload photos and a diary of results through a propriety cloud-based software platform known as NORA, or Network Oriented Research Assistant. Research dermatologists were connected with patients via video-based telemedicine visits.
The year-long telemedicine-based study by Science 37, conducted from August 2016 through August 2017, granted researchers data at a lower cost than traditional clinical drug trials, company officials said. The study was also able to recruit a greater racial diversity of patients – it had 41 percent minority participants compared to an industry norm of less than 10 percent.
AOBiome, which hired Science 37 to help conduct the virtual drug trial, said the double-blind virtual trial said they were pleased with the results.
"We originally estimated that the Phase 2b acne study would take significantly longer, requiring numerous clinical sites to complete," said Todd Krueger, president of AOBiome, in a statement. "This is truly an industry first."
Branching out
Science 37 was launched three years ago at LA BioMed at Harbor-UCLA Medical Center in Torrance. Tan and company co-founder Dr. Noah Craft – both dermatologists – had met while attending medical school at UCLA. The digital health firm now employs 162 people.
The company raised $29 million in a Series C round last spring, bringing its total funding to $75 million, Tan said. Major investors include Alphabet Inc.'s venture capital arm Google Ventures of Mountain View, Lux Capitol Management of New York, Redmile Group of San Francisco and dRx Capital AG of San Diego.
Science 37's model for decentralized clinical trials is now being used for virtual studies of new drugs for liver disease, cancer and diabetes. Several trials are not entirely virtual, as they require nurses show up at patient's doors to administer intravenous injections.
Tan said the company was able to complete the virtual trial for AOBiome in half the time of a traditional drug trial, though she declined to reveal the costs of the study or an estimated savings compared to a traditional study. For every month a clinical trial is delayed, she said, 1 percent is added to its cost, which Tan said can add millions of dollars to a studies bottom line.
There's a human element as well, Tan added.
"We have extremely high patient satisfaction," she said. "We monitor feedback. At the end of the trials, they're really pleased – some say it feels like the best care they've ever had."
For reprint and licensing requests for this article, CLICK HERE.