Ports Emissions Plan Up for Vote
Friday, October 27, 2017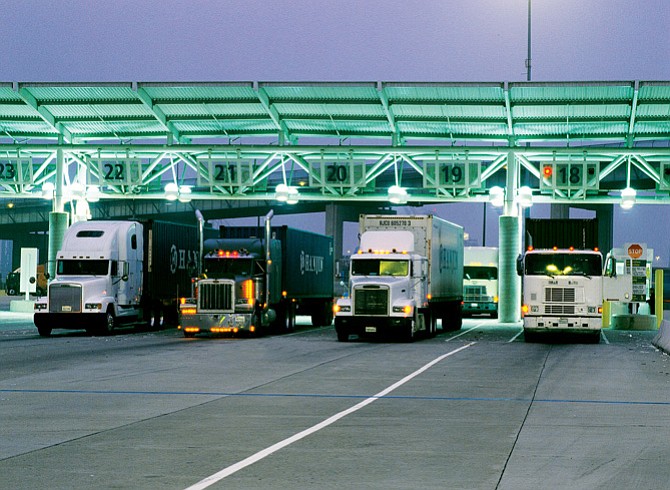 The ports of Los Angeles and Long Beach are set to adopt updates to their Clean Air Action Plan on Thursday, a move that has trucking, shipping and other trade-related industries raising alarms.
The proposed changes, which port officials estimate will cost $7 billion to $14 billion to implement, will require all cargo-handling equipment to be zero-emission by 2030 and the entire trucking fleet to be zero-emission by 2035. This is the third update to the decade-long program that was created in 2006 to address the region's air pollution from port-related sources, which officials said has reduced diesel particulate emissions by 87 percent.
Among the most vocal opponents of the update to CAAP is Oakland-based Pacific Merchant Shipping Association, which represents shipping lines and container terminal operators. It said that the timeline to meet zero-emissions goals was too aggressive considering that there weren't any commercially viable technologies yet that could make this happen.
That could mean an added burden and uncertainty for shippers and trucking companies as well as hurt the ports' ability to compete with other cargo gateways around the country, the PMSA said.
The ports said last week that they intend to pursue grants to help fund the replacement of equipment. The CAAP update would not mandate or assume the use of one particular technology or fuel, port officials said, and operators would have choices about the use of the clean technology that would meet their operational needs and the ports' goals for lower emissions.
Environmental groups, on the other hand, said that 2035 was too long to wait for cleaner air.
The ports have held more than 70 individual stakeholder meetings and three public workshops over the last two years with 150 days of formal comment periods about the CAAP update.
The ports' harbor commissions are scheduled to vote on the update at a joint public meeting at 8:30 a.m. Thursday at the Crowne Plaza Los Angeles Harbor Hotel, 601 S. Palos Verdes St., in San Pedro. The meeting will be broadcast live online at polb.com/webcast and at portoflosangeles.org.
– Shwanika Narayan
For reprint and licensing requests for this article, CLICK HERE.