Artwork Makes Its Place at Koreatown Apartments
Next on Sixth incorporates colorful elements to create character, community
Friday, October 27, 2017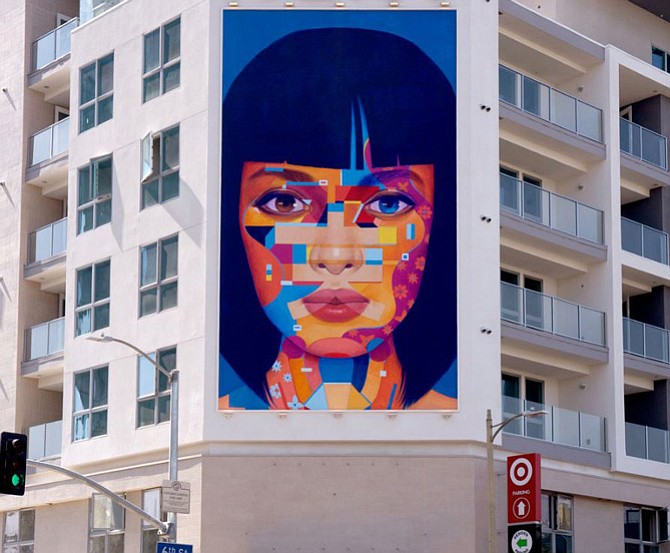 Fine art lovers can catch an eyeful at Next on Sixth.
The new luxury mixed-use apartment development in Koreatown features two 50-foot-tall murals, a statue and an art gallery.
Incorporating public art into new real estate development is part of a trend in urban design called "placemaking," which is the creation of appealing, community friendly public spaces.
The art was also a way to make the property at 620 S. Virgil Ave. stand out along Sixth Street, said Kevin Farrell, chief operating officer of Brentwood-based Century West Partners, which built the property that opened last week.
"When you've got an existing urban landscape, how do you fit the building in there and not compete with the beautiful church and the high-rise courthouse across the street," Farrell said. "How does it fit and still have a unique identity without it looking like, 'what is that doing there?'"
One of the major murals at the property is a creation by Bay Area artist Sam Rodriguez, called "Xochitl," which means flower in the indigenous Mexican Nahuatl language. The mural depicts a cross-cultural woman with symbols including the Korean-language character for flower overlaid on her face.
The mural symbolizes the blossoming of the neighborhood, according to Century West Partners.
A second mural, created by artist Erik Jones, celebrates the diverse culture of Koreatown, featuring Korean symbols for community, unity, Koreatown, friendship and love, according to the firm.
"We take some of the colors the artists gave us and we brought those inside the buildings," Farrell said. "The red from Sam Rodriguez's mural and the turquoise from Erik Jones' mural is also seen in the umbrellas on the pool deck."
A 7-foot-tall geometric sculpture by artist Curtis Pittman, entitled "Radiance," acts as a focal point of the community's interior courtyard with colors that evoke the sunsets of Los Angeles, according to the firm. The interior of Next on Sixth also acts as a gallery, with a number of works showcased throughout, including pieces from Ryland Arnoldi and hand-blown glass chandeliers by Higgins Glass.
Century West Partners purchased a portfolio of three parcels in March 2014 for $20.8 million on which it developed Next on Sixth, according to CoStar. The seven-story complex includes six upper floors with 398 units ranging from studio to one-bedroom and two-bedroom floor plans. A 22,000-square-foot Target Corp. urban-concept store is located on the ground floor.
Next on Sixth has asking rents of $2,125 for a studio, $2,617 for a one-bedroom apartment and $3,422 for a two-bedroom, according to CoStar, compared with an average monthly rental rate in the Koreatown submarket of $2,166 this year, according to the recent USC Casden Multifamily Forecast.
Most Affordable Multifamily Market
The South Bay and Long Beach area was the most affordable L.A. County submarket for investment and rent, according to the third-quarter Multifamily Research Market Report from Marcus & Millichap.
The area, according to the report, has been attracting investors and renters priced out of nearby markets.
The average rent increased year over year by 4.6 percent from to $1,975 per month in 2017, according to the report. Rent gains were more accelerated in Long Beach, where the average rate rose by 5.8 percent to $1,736 a month.
The Westside, on the other hand, is the area's most expensive submarket at $2,970 per month – a 4.4 percent increase from the previous year, according to the report.
The Long Beach-South Bay area's lower price points, value-add potential and higher yields have attracted local investors and buyers from neighboring counties. More than 900 assets traded over the past year, with most for less than $200,000 per unit, the report says.
Existing rentals are expected to benefit from a lack of new product completions this year, as only one project is expected to come online, the report says. A wave of new apartment developments is in the pipeline for next year, however, with 2,245 units slated for completion in 2018.
Kennedy-Wilson Merger
Beverly Hills-based real estate investment firm Kennedy-Wilson Holdings Inc. has completed its merger with Kennedy Wilson Europe Real Estate.
The recent transaction creates a global real estate investment and asset management platform with residential and commercial properties in portfolios worth an estimated $8 billion. The merger is expected to increase Kennedy Wilson's scale, liquidity and geographic reach, the firm said. Kennedy Wilson officials said the merger should result in an improved balance sheet and greater recurring income.
Staff reporter Neil Nisperos can be reached at nnisperos@labusinessjournal.com or (323) 556-8337.
For reprint and licensing requests for this article, CLICK HERE.