Executive Education: University of La Verne Enactus Students Extend Helping Hand
Custom Content by the Los Angeles Business Journal
Tuesday, October 24, 2017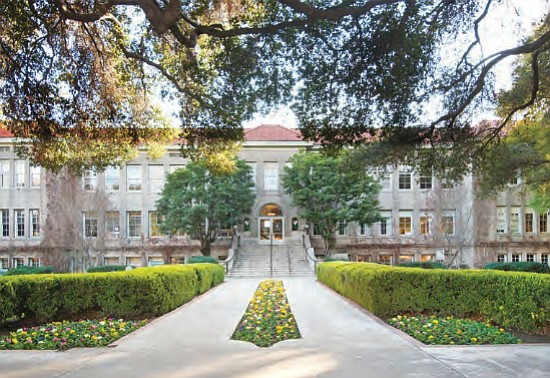 Benjamin Alickovic's family came to the United States from Bosnia in 1996 when he was one year old, bringing little money with them. His father taught English to fellow Bosnians and his mother took care of their children. Despite having few resources, they scraped by and even found ways to help others.
That experience drove the University of La Verne alumnus when he and his classmates traveled across the U.S.-Mexico border this year to help a woman start a catering business so she could provide for her family. Alickovic, who received a bachelor's degree in business administration in May, was part of the university's Enactus program, an international nonprofit organization dedicated to inspiring students to change the world through entrepreneurial action.
"Many people see business as a very cutthroat corporate world, but I see it as the best chance to extend my helping hand," Alickovic said.
At University La Verne, students in both undergraduate and graduate programs are immersed in the fundamentals of business and entrepreneurship, but they also learn about the importance of giving back to community. Those lessons are introduced in the classroom and then brought to life through co-curricular programs such as the Enactus team. This past academic year, the university's 40 Enactus students – primarily business majors – tackled problems such as childhood obesity, unemployment, and poverty.
Those efforts earned members of the University of La Verne's 2016-17 Enactus team their ninth consecutive win at the regional competition this spring and a second place finish within their league at the nationals in Missouri. The university was one of 96 colleges competing nationally.
"I'm very proud of them. They worked hard and we competed hard," said Dr. Issam Ghazzawi, professor of management and Enactus adviser. "I am very happy with the impact that we've created with our community."
Led by the Enactus team, university of La Verne students donated clothing to help college graduates in the Philippines get jobs. Students planted vegetables at an elementary school and taught nearly 600 children there how to make healthier eating choices. And the team's work yielded a cleaner Orange County coastline, with students collecting used fishing line and converting it into nets for fishermen in the Philippines.
Jessica Faber, a senior business administration major, applied her classroom knowledge of management, leadership, and teamwork to the Clothing for Dignity and Success project, which generated 9,000 pieces of clothing, 700 books, and 300 success skills manuals for Filipino college graduates. She led a team of about 15 students, placing collection bins around the city and campus, gathering the clothing once the drive was complete, and then sorting the clothing for shipping.
Faber said the project's community engagement component – working with partners such as the Rotary Club, Hillcrest Homes, and La Verne Waste Management – was one of the most rewarding aspects of Enactus.
"It was amazing to see the La Verne community come together for this and it feels great that I really helped out," Faber said.
Alickovic and Faber are among the eight students who received job and internship offers at the Enactus national championships. Alickovic accepted a job in client services for the human resources software company ADP and Faber worked a 10-week paid summer internship at Orchard Supply Hardware. Students also received offers for management, business development, and sales positions at Sam's Club, PepsiCo, and Walmart.
University of La Verne's Campus is located at 1950 Third Street, La Verne. To request information or RSVP for the next information session, call 877-GO-TO-ULV.
For reprint and licensing requests for this article, CLICK HERE.