USC Seeds Field in Digital Health
Friday, October 20, 2017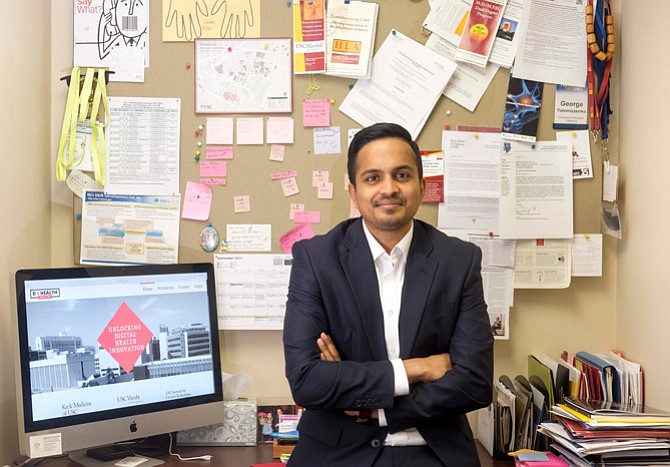 When Hurricane Harvey slammed into Houston this summer, hospitals across the flooded city relied on a new digital app to direct patients to unaffected intensive care facilities.
The emergency coordination platform came courtesy of Akido Labs of downtown, which is one of seven successful digital health start-ups to emerge from USC's 2-year-old digital health lab at Keck School of Medicine.
The small facility helped push USC to the forefront of a growing digital health field, lab officials said.
"It has been wildly successful," said Karthik Murali, director of USC Digital Health Lab and D-Health program. "We have shown we have reduced barriers to digital health company formation."
The past six years has seen the funding of hundreds of emerging digital health firms across Los Angeles County– placing it among the top five digital health markets in the nation, according to life sciences industry analysts.
More than half the digital health companies in the region have fewer than 10 employees.
Companies in the sector merge high-tech software and big data health care analytics. Artificial intelligence projects, wearable monitoring devices and applications supporting disease prevention and management have sprung up.
"The Greater Los Angeles area, according to our count, has more than 250 digital health companies that either provide solutions or connected devices," said Ahmed Enany, president and chief executive of the Southern California Biomedical Council, which next month is hosting a digital health summit at USC. "We are the fourth-largest digital health cluster in the nation."
Los Angeles-area digital health companies drew $1.5 billion in funding since 2014, according to a council study, with most companies clustered on the westside.
The Bay Area, a leader in biotech, has drawn the bulk of digital health investment, with companies raising more than $4.5 billion from 2014 through last year. The NorCal region was followed by New York and Boston, which drew $2.4 billion and $1.6 billion respectively.
Mutual benefit
Cutting edge health care technology has a long history in Los Angeles.
Spacelabs Healthcare of Van Nuys developed the first remote cardiac monitoring and telemetry systems for NASA in 1959. The company's devices were used to monitor astronauts' vital signs in the early Gemini and later Apollo space missions.
The company, now owned by OSI Systems Inc. of Hawthorne, went on to develop the first system for cardiac patient monitoring in hospital ICUs, as well as the first patient monitoring system using microprocessors.
More recently, Patrick Soon-Shiong launched NantHealth Inc. in 2010, a health IT firm he claimed would be "the next Google of genome mapping." Soon-Shiong said he wants cancer data available on any mobile phone. The Culver City-based company went public in 2016 and was valued at about $2 billion, but shares have slumped this year, and closed Oct. 18 at $3.83 for a market value of about $410 million.
Soon-Shiong told the Business Journal earlier this year he intends to consolidate several of his non-public NantWorks companies into a new entity – NantBio – which he plans to take public in 2018. He said the new entity was valued at $8 billion at the time.
Soon-Shiong's presence in L.A., the emerging digital health market and the 2010 passage of the Affordable Care Act gave a few engineering USC students the idea for the Digital Health Lab, which came online two years ago and now includes doctors, bioengineers and aspiring entrepreneurs.
"Were curious on how we could bring the fast-paced technology and product development of (high tech) to health care," said Jared Goodner, co-founder and chief product officer for Akido Labs, who as a USC business student helped co-found the digital health lab with Hugh Gordon and Prashant Samant.
Their founding hypothesis was that digital health should be able to do better than the sector's typical startup range of 12 to 16 months from idea to pilot.
"…We knew tech start-ups took just a few weeks," Goodner said.
The lab helps train physicians and supports early stage companies, which it hosts as so-called startups-in-residence. It does not take royalties. Instead, its digital technology helps streamline healthcare delivery, reduce inefficiency and improve patient care. Companies incubated at USC's lab have later gone on to accelerators such as Techstars, YCombinator and Johnson & Johnson's in-house health and wellness technology program.
USC's lab also spearheaded a public-private partnership with Santa Monica to deploy a digital health solution for its homeless residents. Through the Smart and Healthy City initiative, lab researchers are currently developing software to coordinate health care and other services for people who are homeless.
The lab isn't just a boost for digital health startups and the greater health care industry, however. The facility also helps attract top students to Keck School of Medicine, officials said.
"There is always constant innovation happening – and that is very important to us," said Dr. Rohit Varma, former dean of Keck School of Medicine. "We may lag in the biotech space, but in the digital health side, we really lead."
Varma stepped down as dean earlier this month after revelations surfaced of a 2003 sexual harassment settlement and formal university discipline.
Success stories
Other successful exits from the lab include Giblib of Koreatown, which
aims to build the world's largest digital library of medical lectures, and produces
surgical how-to and virtual reality videos. The company, which raised $1 million during a pre-seed round, has nine employees.
"We call ourselves the Netflix of medical education," said Brian Conyer, chief executive for Giblib who co-founded with company with fellow USC MBA student Jihye Shim. "We're filming and indexing surgical procedures in every specialty."
Stasis Labs of Beverlywood, which developed a real-time monitoring system to track vital signs such as heart and respiratory rates in patients from remote locations, is another lab alum. The company raised $5 million, employs two dozen people and has rolled out its digital health system in Indian hospitals.
The nondescript lab, located in a basement corridor of a Keck School of Medicine administration building, houses a couple of desks and a small library with such titles as "Being Mortal," "Open Innovation" and "How Doctors Think."
Officials there said the program's success is based on interaction with engineers, healthcare professionals and patients.
"You've got to get out and talk to customers, or patients, before you launch a company," said George Tolomiczenko, administrative director for Health, Technology and Engineering, which oversees the digital health lab, and shares its office. "Otherwise you don't know if people will want what you're delivering."
For reprint and licensing requests for this article, CLICK HERE.