Forever 21 Makes Beauty Mark with New Stores
Riley Rose opens first spot at Glendale Galleria, with more locations planned.
Friday, October 20, 2017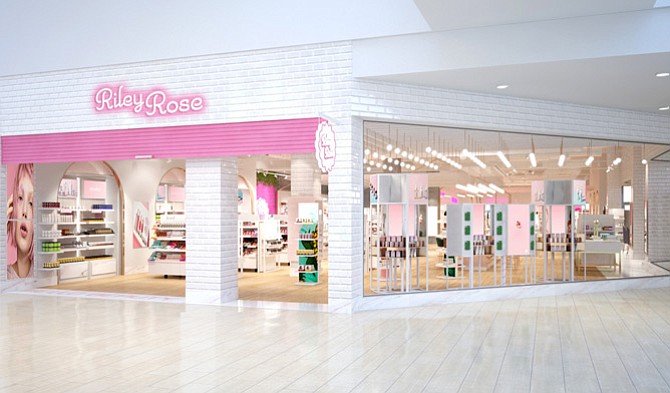 Fast-fashion clothing retailer Forever 21 Inc. is moving into the beauty and home furnishings market.
The Highland Park-based business, L.A. County's sixth-largest private company based on estimated 2016 revenue of $4 billion, opened the first store of its new beauty concept Riley Rose at the Glendale Galleria last month (see related story on Largest Private Companies, page 1; list, page 12).
The mall's owner, Chicago retail real estate firm GGP Inc., announced in May that Forever 21 would open 13 Riley Rose stores at GGP's regional shopping centers over this year and the next.
"These new, experiential spaces will be focused on accessories, cosmetics and home goods for the millennial consumer," Do Wong Chang, Forever 21's chief executive, said in a statement.
Chang and his wife, Jin Sook Chang, who is Forever 21's chief merchandising officer, together ranked No. 25 on the Business Journal's Wealthiest Angelenos list. The couple has an estimated net worth of $3.4 billion.
The move into beauty retail is the company's latest attempt to reinvigorate sales, which have slowed in recent years.
The beauty industry has been a bright spot amid the retail industry's general struggle with the shift to ecommerce. The U.S. cosmetic industry generates almost $56.9 in revenue annually, according to a report published last month by the Statistic Brain Research Institute.
One of the big winners has been Bolingbrook, Ill.-based beauty store chain Ulta Beauty Inc., which increased its L.A. County store count to 18 this year with a new location in Santa Monica. The $11.9 billion public company increased its revenue almost 24 percent to $4.9 billion in fiscal year 2016 from $3.9 billion the year prior, it said in documents filed with the U.S. Securities and Exchange Commission.
Forever 21 is shifting its strategy on the clothing front, too. The company announced in April that it would more than double the number of locations of its off-price clothing concept F21 Red by opening 40 more locations.
Off-price retailers including TJX Co. Inc.'s TJ Maxx and Marshalls have flourished amid the post-recession environment and continue to open stores.
Gap Inc. said last month that it would close stores of its flagship brand Gap while increasing the number of locations of Old Navy, its lower-priced brand. Forever 21 doesn't appear to have opened any new Forever 21 stores this year.
Ice Cream Wars
Changing tastes and preferences have driven up sales of healthier or more indulgent ice creams in recent years, while driving down sales of traditional brands, according to analysts.
That dynamic is playing out locally among ice cream makers Glendale-based Nestle USA Inc. – which is in the process of moving its headquarters to Arlington, Va. – and Eden Creamery in Los Feliz.
Nestle, which IbisWorld market research firm in Brentwood said held almost 22 percent of the $8.3 billion U.S. ice cream market last year with $1.8 billion in sales of brands including Haagen-Dazs, Dreyer's and Edy's, told the state Employment Development Department this month that it's planning a temporary layoff of 217 employees at its Tulare ice cream plant, citing a reduction in production volume.
The employees will be laid off for about a month starting in December, according to a letter the company sent the state. The plant, one of eight owned by Nestle's Oakland-based subsidiary Dreyer's Grand Ice Cream Inc., will continue operating throughout the period.
Meanwhile, upstart Eden Creamery is reaching new heights. Its high-protein ice cream Halo Top was the best-selling pint in the country for the four weeks ending July 16, the company said, citing data from IRI.
Sales of Halo Top outpaced brands including Haagen-Dazs and Ben & Jerry's. Justin Woolverton, founder and chief executive of five-year-old Halo Top, declined to disclose revenue, but IRI told the Business Journal in May that it estimated the company accounted for $105 million in retail sales for the year ended April 16.
Hostess CEO Steps Down
Investors think Twinkie-maker Hostess Brands Inc. isn't tasting so sweet after Chief Executive Bill Toler announced on Oct. 12 that he would step down by March 1.
The Kansas City, Mo.-based public company, which was acquired by a publicly traded blank check firm created by Beverly Hills private equity firm Gores Group last year, didn't give any reason for the resignation, although it noted that Toler, who took over in 2014, would remain on the board.
Gores Group was No. 12 on the Business Journal's private equity firms list with $3.3 billion in assets under management in 2016.
At least one analyst firm downgraded its outlook for Hostess, while shares of the $1.5 billion company dropped almost 9 percent overnight to $12.26 on the news and continued their decline last week.
Hostess' revenue increased to almost $728 million for fiscal 2016 from almost $621 million the year prior, it reported.
Staff reporter Caroline Anderson can be reached at canderson@labusinessjournal.com or 323-556-8329.
For reprint and licensing requests for this article, CLICK HERE.