Children's Hospital Sees Growth from Clinic Work
Tie-in with AltaMed boosts market share, brings care to range of neighborhoods.
Friday, October 20, 2017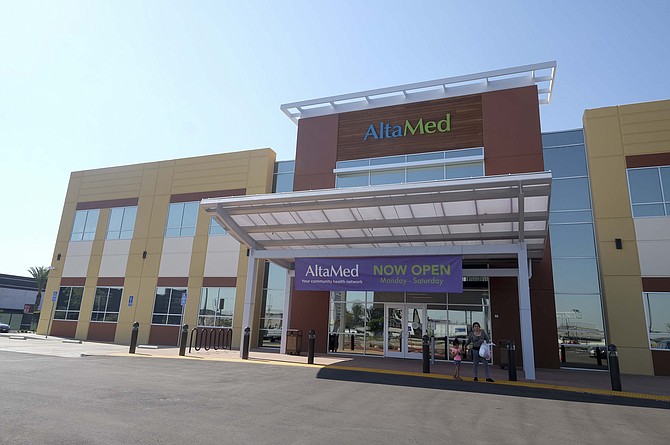 The doctors who treated the children who flooded in for urgent care earlier this month at a newly opened medical clinic in South Gate wore the mark of Children's Hospital Los Angeles.
Pediatricians from a physicians group tied to the East Hollywood hospital now practice at seven AltaMed Health Services Corp. clinics in needy neighborhoods across the region, part of a program to provide doctors to underserved areas around the Southland.
"It's an exciting endeavor and collaborative practice, to be able to provide quality care to underserved communities across Los Angeles," said Dr. Mona Patel, a practicing physician of CHLA Medical Group and director of operations for the Children's Hospital community sites at AltaMed. "It's expanding."
The South Gate clinic, which opened last week, is the seventh AltaMed clinic the hospital has partnered with in a collaboration that ranges from Hollywood to West Covina.
The program is part of an effort to boost the hospital's brand in a market that includes 2.5 million kids across L.A. County. Another goal is an increase in medical referrals to the main hospital's more than 350 pediatric specialists.
The program has helped Children's Hospital increase its market share as measured by total discharges in the county. The hospital saw a 3 percent increase in market share each year since 2013, according to Lara Khouri, Children's Hospital's chief strategy officer.
The nonprofit hospital's revenue rose 31 percent to $1.1 billion in 2015 from $823 million in 2014, according to the most recent data available.
Numbers aside, Khouri said better patient health is the primary concern of the program.
"First and foremost, it's about making sure that the children of Los Angeles County have the best pediatric care available to them," she said. "It's a family centered solution. And everybody wins."
The program's success has led to more partnerships with hospitals across the region.
Children's Hospital doctors also recently began caring for at-risk newborns at Providence St. John's Health Center in Santa Monica.
Their oversight of the hospital's neonatal intensive care unit followed similar partnerships for Children's Hospital pediatric services at Providence Holy Cross and Providence Tarzana hospitals in the San Fernando Valley.
"This partnership brings a higher level of care for premature and critically ill infants to the communities served by our three Providence hospitals," said Pat Aidem, spokeswoman for Providence Health & Services Southern California. "Enhancing NICU care means babies who in the past might have required transfer to CHLA can be treated near home, near their families, ensuring togetherness from Day 1."
CHLA Medical Group and Children's Hospital launched CHLA Health Network this spring, which includes more than 100 general pediatricians in 26 practices areas, who treat more than 150,000 patients across the region.
Children's Hospital has five outpatient medical clinics from Santa Monica to Arcadia to Santa Clarita.
The broad-based expansion is part of the hospital's goal to bring evidence-based pediatric primary care nearer to a child's home. Affiliated healthcare agencies and doctors also benefit from the Children's Hospital's renowned medical expertise and its Saban Research Institute, which provides a research hub in addition to the hospital's clinical pediatric care.
Hundreds of Children's Hospital pediatricians have provided care to hundreds of thousands of needy children through the partnership with AltaMed clinics. Its east Hollywood clinic now sees more than 90,000 patient visits a year.
Nine out of 10 kids across Los Angeles County seek care from medical facilities not prepared to care for children, including offices that lack child-size needles and instruments, said Cástulo de la Rocha, AltaMed's chief executive, which runs nearly 50 nonprofit health care centers and clinics across the region.
"Through this partnership," de la Rocha said in a statement, "we aim to increase our staffing and improve access to pediatric care for thousands of children across the county."
For reprint and licensing requests for this article, CLICK HERE.