LAX 1.5: $490M Terminal in Works
Friday, October 20, 2017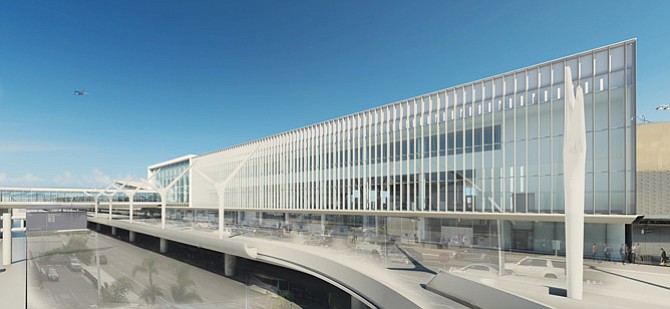 LAX's massive makeover is marching on with a $490 million building to connect two terminals and provide more baggage facilities and screening checkpoints for passengers and allow fliers to move between terminals without having to go back through security.
Known as Terminal 1.5, the five-story, 257,000-square-foot structure is slated to open in spring 2020, connecting Los Angeles International Airport's Terminal 1 and Terminal 2. It will be the first connection between terminals on the north side of the airport and also will connect to the planned automated people mover when that comes on line in a few years.
"This new building will serve several purposes that we have found improve the experience for our guests," said Cynthia Guidry, deputy executive director for planning and development at Los Angeles World Airports, the city agency that operates LAX. "By providing a secure connection between terminals, passengers who are changing flights within Terminals 1 and 2 will not have to be rescreened by the (Transportation Security Administration). It will also provide additional checkpoints using the new automated screening lane technology that allows up to five people to fill their bins at the same time."
Dallas-based Southwest Airlines, which operates out of the 360,000-square-foot Terminal 1 and is paying most of the construction costs for the Terminal 1.5 facility, is the only leaseholder at the new building so far.
Southwest Airlines had 6.6 million passengers at LAX from January through August, making it the fourth-largest carrier there with an 11.6 percent market share, according to statistics from Los Angeles World Airports. Southwest had 9.4 million passengers for all of last year.
LAX reached a peak 80.9 million passengers arriving or departing in 2016, making it the second-busiest airport in the country.
LAWA spokesman Charles Pannunzio said several other airlines are likely to sign leases at the terminal over the next year.
The building is being designed by architect PGAL of Houston; the general contractor is Hensel Phelps Construction of Greeley, Colo.
Construction workers last week began installing barricades, requiring Southwest skycaps operating between the two terminals to move directly in front of Terminal 1. Next month, Pannunzio said, will see the demolition of Gate 10 at Terminal 1, which must be removed to make way for the new building. Flights that have been using Gate 10 will use other gates, including the soon-to-be-reopened Gate 16.
Terminal 1.5 is set to open a few months after another terminal, the $1.6 billion Midfield Satellite Concourse, opens behind Tom Bradley International Terminal. Southwest and the other airlines that end up leasing at Terminal 1.5 will then be able to bus passengers directly from that building to more new gates at the midfield concourse.
For reprint and licensing requests for this article, CLICK HERE.