KING'S COUNSEL
Lawyer continues in service of pop superstar as estate executor
Friday, October 13, 2017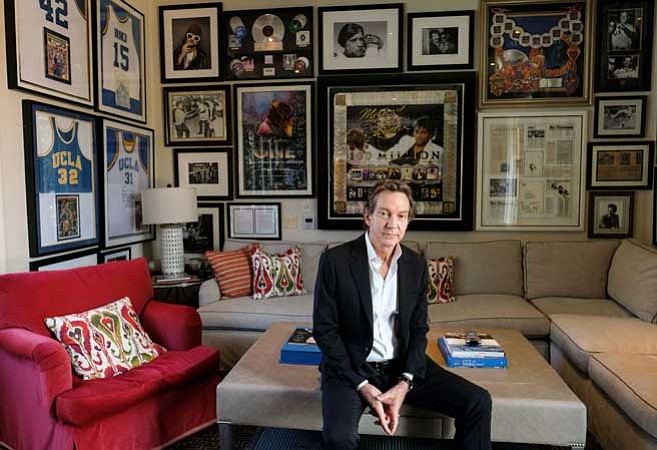 The sports connection came naturally. Branca owns one of the world's most noted baseball card collections, and is the nephew of deceased Brooklyn Dodgers pitcher Ralph Branca – who famously gave up the "Shot Heard 'Round the World," the game-winning homerun that decided 1951 National League pennant playoff series, sending the cross-town rival New York Giants on to the World Series. Branca said his focus narrowed to music when he signed Jackson in 1980, just after the release of Jackson's hit album "Off The Wall," his first album for his longtime label Epic Records.
"Michael was a very young man – I think he had just turned 21 – who knew what would follow that?" Branca said.
"Thriller" followed that.
To date the 1982 album has sold more than 100 million copies, making it the biggest selling album of all time, according to Billboard.
"With 'Thriller,' he became the biggest thing in music since the Beatles and Elvis Presley, and has maintained that lofty position ever since," Branca said.
Beatles catalog
Branca negotiated the deal when Jackson bought the Beatles catalog in 1985, as a part of a $47.5 million deal for ATV Music Publishing. Ten years later, Sony paid Jackson a reported $115 million to become partners in Sony/ATV. In 2016, The Jackson Estate sold its 50 percent stake in Sony/ATV for a $750 million, giving Sony sole ownership and the estate a healthy infusion of cash.
It's hard to compete with the King of Pop, but Branca enjoys personal success as well. He's a constant presence on multiple lists of top entertainment attorneys, including being named Billboard's 2016 Lawyer of the Year. His high profile also tends to land him on more speculative lists, including one appearing on the Worlds Top Most website, ranking him the third wealthiest lawyer in the world with a net worth of $50 million. More reliable sources close to Branca pegged his worth closer to $100 million.
Branca would not confirm or deny any reported figures, but did get a laugh out of finding himself on recent list of the Top 10 Most Expensive Lawyers on Wonderslist website, which did not include any fee figures but ranked Branca No. 3.
"Maybe I should put that on my resume," he joked.
Legacy lookout
Back to Jackson, whom Branca insisted was no Wacko Jacko.
"Michael was unique," Branca said. "He didn't have a normal childhood. He started rehearsing about the age I started buying records. Michael was not hanging out on street corners, so in that sense he was unique. Wacko? I don't think so.
For reprint and licensing requests for this article, CLICK HERE.
Stories You May Also Be Interested In