KING'S COUNSEL
Lawyer continues in service of pop superstar as estate executor
Friday, October 13, 2017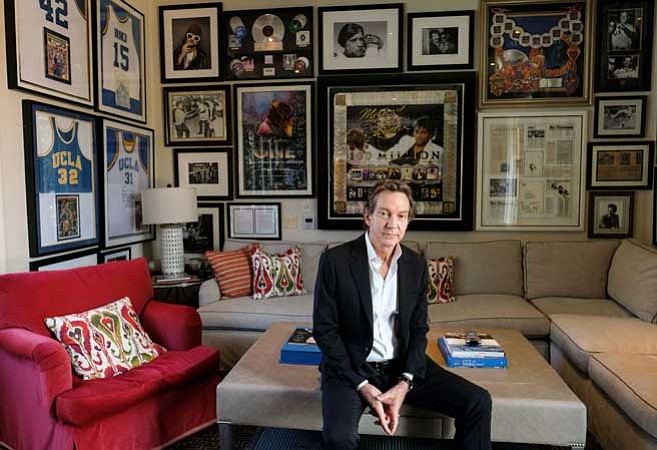 Entertainment and corporate attorney John Branca talks about the late pop superstar Michael Jackson in the present tense, as if he were still here.
It's not just because Branca's Beverly Hills home prominently displays Jackson memorabilia among Venetian antiques, including Jackson's self-designed black leather "dinner jacket," decorated with rows of tiny knives, forks and spoons.
It's because Branca serves with John McClain as co-executor of the Michael Jackson Estate, a job that includes keeping the legacy alive by overseeing the licensing, promotion and packaging of Jackson's image and music for new projects.
The list includes Cirque du Soleil's "Michael Jackson One: The Best Tribute," a permanent attraction at Mandalay Bay Resort and Casino in Las Vegas, and Cirque's 2011-2014 arena show "Michael Jackson: The Immortal World Tour," ranked by Billboard as the eighth-top grossing tour of all time: 501 shows, 157 venues, 28 countries, $360 million.
"He is still with us," Branca asserted. "A so-called typical executor of another estate might oversee the stock portfolio, et cetera, but you can't do that with this estate. It's really about managing an entertainer's legacy and assets…much like a living entertainer would have a manager."
Branca, partner and head of the music department at Ziffren Brittenham law firm in Century City, has represented 30 members of the Rock and Roll Hall of Fame, including Aerosmith, Beach Boys, Doors, Carlos Santana, Earth Wind and Fire and the Rolling Stones. The firm's clients also include younger artists such as Justin Timberlake, Beyoncé Knowles, and Alicia Keys.
Branca also represents independent investors, music labels, music publishing catalogs, and estates, including the behemoth Elvis Presley Estate. Forbes reported the Presley estate earned $27 million as recently as 2016.

"I don't want to be viewed as a one trick pony, or a one hit wonder," Branca said.
Building business
Branca is best known for his long association with Jackson, which resulted in Branca and McClain being named executors of the estate in 2009 at Jackson's request in his will, a choice hotly contested by the Jackson family but eventually resolved.
Branca, a former guitar player in a rock band, a music fan who used to spend his weekly allowance to buy one single record every Saturday, began his law career representing both sports figures and musicians. He represented National Basketball Association players and world champion motorcycle racers at the same time he served the Beach Boys and did work for Bob Dylan, Neil Diamond and George Harrison while assisting a then-senior law partner.
Prev Next
For reprint and licensing requests for this article, CLICK HERE.