Breitburn Bankruptcy Exit Plan Could Split Company in Two
Thursday, October 12, 2017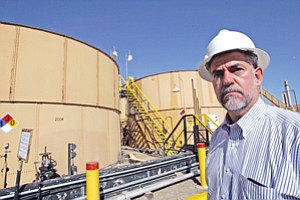 Downtown-based Breitburn Energy Partners laid out its bankruptcy exit plan Thursday in a Manhattan courtroom, calling for the oil exploration partnership to split into two companies.
According to a news report from Reuters, one of the companies would own assets in the West Texas Permian Basin and the other would own the remaining oil field assets in California, the Rocky Mountains, the Midwest and the Southeast.
That was the heart of the plan laid out Thursday by Weil Gotshal & Manges bankruptcy attorneys Stephen Karotkin and Ray Schrock in the courtroom of Judge Stuart Bernstein of the Southern District of New York.
Unsecured bondholders would have the chance to buy shares of the Permian asset company's stock, which Breitburn's bankruptcy attorneys said were valued at $775 million, according to Reuters' report. The sale would be guaranteed by a group of creditors that includes W.L. Ross & Co., the New York private equity firm founded by current U.S. Commerce Secretary Wilbur Ross.
But, according to the Reuters report, an attorney representing the shareholders committee – Vincent Indelicato of New York's Proskauer Rose – said that the Permian Basin assets should be put up for auction and the proceeds distributed to all creditors, not just a handful of large bondholders. Under the plan Breitburn laid out, current stockholders would not see any proceeds from the asset sale and might instead face thousands of dollars in tax liabilities.
Bernstein is set to consider the Breitburn plan at a Nov. 8 hearing. If he approves it, creditors would vote on the plan by Dec. 11, the Reuters report said.
Breitburn filed for Chapter 11 bankruptcy protection in May 2016 as the collapse in oil prices meant it could no longer pay its $2 billion in debt incurred to make a major acquisition in July 2014, just three months before the price collapse. In its bankruptcy filing, the company listed its assets – including 7,900 oil and gas wells in California, the Permian Basin of western Texas and eastern New Mexico, and elsewhere – at more than $4.7 billion. In subsequent court filings, however, the total enterprise value of the company, which was founded in 1988, was listed at around $1.9 billion.
Economy, education, energy and transportation reporter Howard Fine can be reached at hfine@labusinessjournal.com. Follow him on Twitter @howardafine.
For reprint and licensing requests for this article, CLICK HERE.