Westfield Rebirth
Century City mall's $1 billion renovation attempts to halt brick-and-mortar decline
Friday, October 6, 2017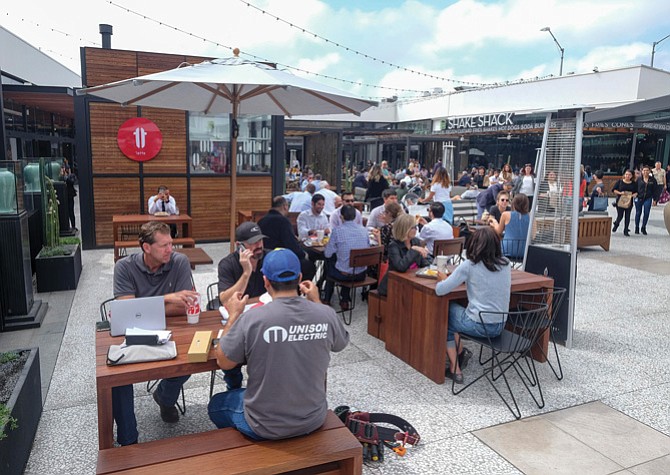 The Westfield Century City mall's ribbon cutting last week on its $1 billion renovation marks the beginning of a new experiment in retail.
The shopping center upped the number of tenants to more than 220, with many of them smaller brands with few, if any, other locations. It has increased its emphasis on food, with a West Coast outpost of Chef Mario Batali's Italian marketplace and restaurant Eataly scheduled to open later this month.
Peter Lowy, co-chief executive of Sydney-based Westfield Corp., has said he wants shopping center visits to feel like a destination experience.
Other notable newcomers and changes include a new Amazon Books, the first L.A. bookstore opened by Amazon.com and its 12th nationwide; a new three-level Nordstrom; a remodeled three-level Bloomingdale's; and a new two-level Macy's.
The eyes of the business world are on Westfield Century City as malls and brick-and-mortar stores attempt to adapt to an evolving retail environment increasingly moving online, said Gabe Kadosh, vice president of retail services at downtown's Colliers International.
"I think a lot of people will watch the project and try to mirror some of the characteristics," Kadosh said.
In the two years since construction began on the project, ecommerce has turned the retail world upside down. Amazon acquired Whole Foods Market Inc., while retailers including Toys R Us Inc., BCBG Max Azria and American Apparel declared bankruptcy.
As such, the renovation itself has been a moving target.
"The leasing plan we started with in 2015 is completely different than where we are today," Lowy said at the Business Journal's Icons event in May.
Westfield Century City is the seventh-largest retail center in L.A. County at 1.3 million square feet, according to the Business Journal's annual list of largest shopping centers ranked by leasable area. It is one of a handful of local malls in the midst of renovations, including the Beverly Center and Manhattan Village Mall.
If Westfield Century City's new approach is successful, it might draw traffic away from other shopping areas, Kadosh said, including stores on Beverly Drive and Canon Drive in Beverly Hills.
For reprint and licensing requests for this article, CLICK HERE.