Tech Boom Gives Recruiters a Boost
Friday, October 6, 2017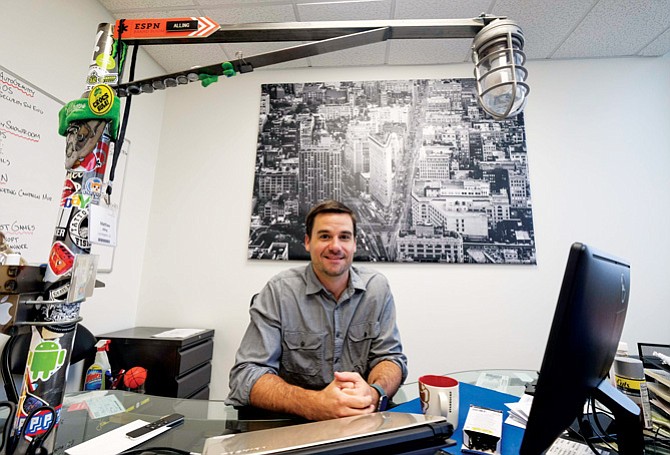 Local corporate demand for skilled tech workers is higher than ever – and it's not just computer engineers and app developers who are seeing big paydays.
Recruiters are also reaping the benefits, drawing talent out of the San Francisco Bay area and down to the L.A. region – an expansion in the talent pool for the first time in recent memory.
"Los Angeles is a real standalone tech market for the first time –it's not just trickle down from the entertainment industry," said Matt Alling, chief executive and founder of Calvin Group, a Mid-Wilshire tech recruiter. "In the last year and 18 months we were able to recruit out of San Francisco for Los Angeles-based companies. If you'd asked me that five years ago, I'd say we don't even mess with San Francisco."
Local staffing firms – who act as conduits between tech employees and companies looking to fill open positions – have seen revenue rise in tandem with the fees they earn from placing more candidates at higher salaries.
Demand for computer and mathematics positions has pushed up the median pay for technical jobs 31 percent in Los Angeles County over the past 10 years to $82,200 a year in 2016 from $62,736 a year on average in 2006, according to the U.S. Census Bureau. That's nearly double the 16 percent median salary gain made by L.A.-area residents, which jumped to $42,079 from $36,206 over the same time period.
The IT salary bump means tech recruitment firms earn more from their fees. Several local recruitment firms said their revenues grew steadily over the past several years, resulting in additional L.A. offices, staff and profits.
Recruiters are typically paid by their clients when a candidate accepts a job. Their fees are based on a percentage of a hire's first-year base salary. Usual rates in Los Angeles are now between 15 percent and 25 percent, staffing agencies said.
The increased demand for tech talent has in some cases bumped these rates even higher, according to Jason Nazar, co-founder and chief executive Comparably, an online salary database and recruitment platform in Santa Monica.
"I remember when I started doing this 10 years ago we were paying 15 percent of starting base salary," he said. "Now, I've seen 25 percent to 30 percent."
Connecting dots
There is one tech job candidate actively looking for every six job postings in Los Angeles County, according to data from Chicago-based CareerBuilder compiled by tech recruitment firm TEKsystems of Hanover, Md.
"It's a very competitive market – there's just under 3 percent unemployment in IT," said Weston Wells, TEKsystems' director of business operations in Phoenix, who previously was the director of business operations in Los Angeles for nine years. "People who are unemployed are choosing not to work in the field or are in-between assignments."
The labor force imbalance means recruiters spend much of their time finding prospective tech workers and convincing them to ditch their current employer to join other companies.
Collecting information on and getting in touch with so-called passive candidates – tech workers who aren't actively looking for new work – has become a fast-growing and lucrative industry. The industry leader is Sunnyvale's LinkedIn Corp., a professional social network that contains the country's largest pool of passive candidates and which was acquired last year by Redmond, Wash.-based Microsoft Corp. for $26.2 billion.
However, a growing list of companies also compete in the business of collecting information on local tech workers. Nazar's Comparably, Glassdoor of Mill Valley and Chicago-based Built in's BuiltinLA.com are all websites that provide information on local tech company cultures, salaries and job openings.
These networks are often the first place recruiters message passive candidates when a client asks for help hiring a new engineer, in addition to their own databases of personal contact information.
However, because the industry has become so competitive and engineers are so swamped with in-bound messages, many recruiters swear the only thing that gets the attention of top talent these days is old-fashioned, person-to-person networking at events, over lunch or in the office.
"We still have to have conversations and meet people," said Wells. "We actually have to talk to people to understand where they want to go and why. That can't always be understood through a resume."
Endless appetite
There's an insatiable hunger for tech talent right now driven by innovation, according to industry insiders.
Because corporations and venture-backed startups are constantly adopting the latest-and-greatest software and hardware, they require talent with the latest-and-greatest skills, said Evan Gordon, vice president of Boston-based Motion Recruitment Partners, the parent company of prominent Westwood recruitment firms Workbridge Associates and Jobspring Partners.
"There's constantly new jobs that are being created," said Gordon. "The number of people who are graduating with technology degrees and backgrounds aren't keeping up with that."
The L.A. region graduated 3,000 software engineers and a total of 5,569 engineers from its 118 higher education institutions in 2016, according to the Los Angeles County Economic Development Corp.
A few examples of tech jobs most in demand these days include full-stack developers, back- and front-end developers, data engineers, mobile phone app developers and cybersecurity engineers, according to tech recruiters. Mid-level and senior engineers in these roles provide the most lucrative payouts to staffing agencies, recruiters said.
Junior developers fresh out of college can expect to make about $73,138 a year in Los Angeles, which is about 12 percent lower than the industry average. Senior developers with 10 or more years of industry experience can expect to make $137,000 a year on average – 67 percent above the average pay of all computer and mathematics employees, according to data compiled by Comparably and the U.S. Census Bureau.
The competition for such workers is fierce and is continuing to drive up tech worker salaries and recruiter revenue.
In Los Angeles, Facebook Inc., Alphabet Inc.'s Google Inc., and Snap Inc. of Venice are a few prominent examples of tech firms rapidly hiring workers, several recruiters said. Those mature technology firms compete for talent with hundreds of small, fast-growing startups in the region, which are often backed by millions of dollars in venture capital. Venture investment in L.A.-area companies was $3.59 billion last year, according to a report by Dow Jones Venture Source.
Demand for engineers appears to be spreading to other industries as well. Technology firms in Los Angeles are not only competing against each other, but are increasingly trying to outbid legacy health care, finance and entertainment companies who are incorporating more software and hardware into their operations, Wells said.
"Companies are more and more now seeing IT as a business and profit generator rather than a cost center," he said. "I think that's why the supply is not meeting the demand right now."
For reprint and licensing requests for this article, CLICK HERE.