Group Hopes Grant Will Get Restaurant Rolling
L.A. Conservancy wants to restore iconic Formosa Cafe with online voting effort
Friday, October 6, 2017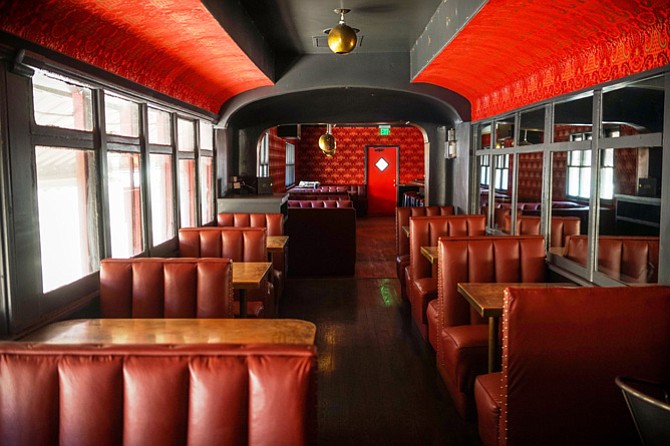 Los Angeles Conservancy is making a play for grant funding to help restore the closed Formosa Cafe, one of West Hollywood's most recognizable historical landmarks, as an operating bar and restaurant.
The place was opened by one-time prizefighter Jimmy Bernstein in 1925 and featured a renovated Pacific Electric Red Car trolley for use as a lunch counter. The business expanded in 1945 with the addition of a larger restaurant and bar.
Its historic credentials include a feature role in the popular crime film "L.A. Confidential."
"It is part and parcel with Los Angeles, Hollywood and West Hollywood history," said Adrian Scott Fine, director of advocacy for the Los Angeles Conservancy. "There are so many different layers associated with the Formosa Cafe. Hollywood history, boxing history, mobster history is all tied up in this place."
Los Angeles Conservancy, which works to preserve historical resources in the city, approached the owners of the restaurant to help with the restoration. The organization helped get Formosa Cafe on a list of 25 historic sites around the country that are eligible for grants from Partners in Preservation: Main Streets, a campaign launched by American Express and the National Trust for Historic Preservation.
Partners in Preservation plans to award a total of $2 million in preservation grants to the historic sites that receive the most online votes from the public.
Los Angeles Conservancy's goal is to restore Formosa Cafe to make it look as it did in the 1940s and '50s. It seeks a $150,000 allocation from the grant program to fully refurbish the trolley portion of the restaurant, which dates to 1906 and has experienced some deterioration, Fine said.
"There aren't a lot of places like it left here," Fine said. "That's what makes the Formosa such a great story. It survived and now we have a great opportunity to bring it back to the period when everyone knew it and loved it."
The Formosa Café became a noted hangout spot for celebrities and local mob figures such as Mickey Cohen in its mid-20th century heyday.
"Mickey Cohen was popular there, and Bugsy Siegel had a book-making operation in the back room, through a secret panel door," Fine said.
The property is owned by Clarion Partners, which is leasing it to downtown-based 1933 Group, a restaurant and bar operator which aims to reopen the Formosa Café next year.
"The 1933 group was thrilled to be part of this," Fine said. "They need help. They don't have the funding to do all they want to do, and this is specifically focused on the trolley car."
The public can vote daily for Formosa Cafe or the other grant program contestants at VoteYourMainStreet.org through Oct. 31. Winning applicants for grant funding will be announced in early November, Fine said.
Griffin Club Completes Renovation
Another historic building, meanwhile, has just received a facelift.
The owners of Griffin Club Los Angeles in Cheviot Hills, one of L.A.'s oldest private clubs, recently announced the completion of a $13 million renovation. The club opened in 1926 and for a time was known as Beverly Hills Country Club.
The nearly 36,000-square-foot clubhouse now features a contemporary exterior upgrade, multiple dining venues and state-of-the-art fitness facilities, Chicago-based Singerman Real Estate and Boulder, Colo.-based Meriwether Cos. said in a statement.
Club improvements included a fully-renovated primary bar and restaurant and now place an emphasis on dining, sports and social programming, according to the companies.
The club was opened by founder Elmer Griffin in 1926 as a place for actors and entertainers, and the original regulars included Humphrey Bogart and Errol Flynn.
Staff reporter Neil Nisperos can be reached at nnisperos@labusinessjournal.com or (323) 556-8337.
For reprint and licensing requests for this article, CLICK HERE.