City of Hope Wins $13 Million Grant to Fight Aggressive Brain Cancer
Thursday, October 5, 2017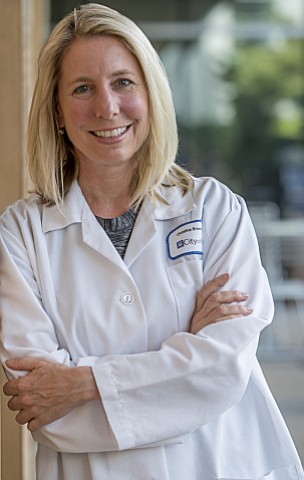 Researchers at City of Hope National Medical Center have won a $13 million grant to fund a clinical trial employing CAR-T cell immunotherapy to kill brain cancer, hospital officials announced this week.
The world-renowned cancer treatment center in Duarte received $12.8 million from the California Institute of Regenerative Medicine to fund a Phase 1 clinical trial to combat an aggressive brain cancer called malignant glioma.
The trial, led by Christine Brown, PhD, and Dr. Behnam Badie, will employ the CAR-T cell-based therapy in which a patient's own T cells are reprogrammed to seek out and destroy malignant cells. It will be open to adults and children.
Few therapies exist for malignant glioma, which has a five-year survival rate of 5.5 percent.
City of Hope was the first and only cancer center to treat patients with chimeric antigen receptor (CAR) T cells to target a protein found in most glioblastomas. It was also the first to administer CAR-T therapy in the brain.
The California Institute for Regenerative Medicine, a public institute based in Oakland, was launched by California's Stem Cell Agency as a result of Proposition 71 approved by voters in 2004. Of its $3 billion in dedicated funds, some $500 million is left to support stem cell research and cures across the state.

Health business reporter Dana Bartholomew can be reached at dbartholomew@labusinessjournal.com. Follow him on Twitter @_DanaBart.
For reprint and licensing requests for this article, CLICK HERE.