Meetings and Events 2017: Hit the Lanes for an Epic Holiday Party
Custom Content from Los Angeles Business Journal
Monday, October 2, 2017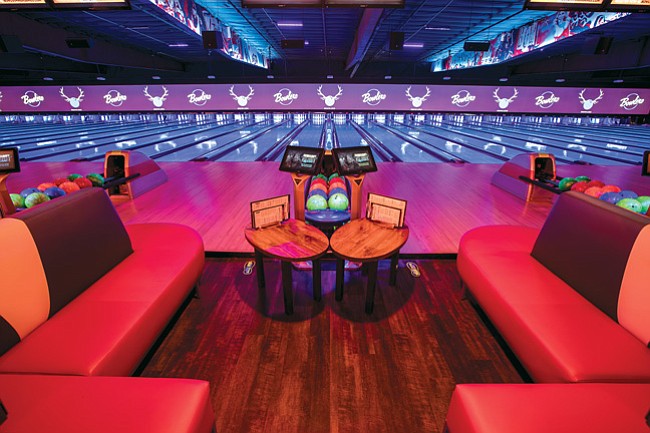 Tis the season for awesome celebrations! Every office wants to host the perfect holiday event, but not all office parties are created equal. How can you find the definitive setting for your annual holiday soirée and ensure that your party stands out from the rest? It's easy: throw the Best Holiday Party Ever at Bowlmor Lanes and Bowlero. Find out how the party pros at Bowlmor and Bowlero combine backlight bowling and arcade games with inventive menus and mixologist-inspired cocktails to transform the typical boring office party into a striking holiday event.
TOP REASONS TO ROLL THIS HOLIDAY
It's Interactive.
When you're bowling, you're engaged. Everyone is laughing, eating, drinking, and high-fiving their way to an epic good time. Bowlmor and Bowlero take holiday fun to a whole new level with video walls, lounge seats, up-tempo music, and lanes service that turns every party into an undeniably immersive experience.

It's Upscale Without Being Stale.
Every Bowlmor and Bowlero brings a fun, hip, chic vibe to your holiday party without the stuffy air of a fancy restaurant where people mingle but don't actually have fun. This year, skip the boring, get right to bowling (your colleagues will thank you after).
It's Team-Oriented and Totally Entertaining.
When you bowl, new friendships develop, new rivalries are born, and the whole team gets to know each other just a little bit better than they would standing around a wine and cheese plate.
It's Packed with Outrageous Eats.
What makes every Bowlmor and Bowlero holiday party so unique and delicious? It has to be the exceptional menu of oversized shareable that includes the five-pound Behemoth Burger, eight-pound Beast Burrito, two-foot hot dogs, and the Dunk Tank—a fishbowl cocktail that's perfect for sharing with four or more of your favorite colleagues.(For dessert, treat your team to a Monster Cookie Melt or a batch of Sweet Belgian Waffle Fries.)

It's Fun for All Ages.
From the Baby Boomer boss to the Gen-X manager to the millennial up-and-comer, everyone can join the fun. Hit the lanes and roll like a rebel, unleash your inner child in our interactive arcade, or just enjoy a drink and take in the scene on our plush lane side loungers. Whatever you're game, we've got the perfect place to play.
TIPS TO PLAN LIKE A PRO
Start Early.
Really Early. Venues fill up quickly (our eight LA area locations can all attest to this). And it's never a fun experience when you discover that your ideal venue has months-long waiting list. Start Early. Yeah, that's right—it twice. It's that important. Plus, you can usually score exclusive extras and special deals on your holiday party the earlier in the season you decide to book. (Take advantage of Bowlmor and Bowlero's special early booking offer now and book before 9/30 to get free $20 Gift Cards for each of your guests plus Free Dessert for your entire event. Visit Bowlmor.com/holiday or Bowlero.com/holiday to find out more.) Headcount for your party. Will you need a few lanes? More than 10? Or do you want to goal out and reserve the entire venue for your holiday event? Every Bowlmor and Bowlero gives you the flexibility to customize your party—from the number of lanes to the kind of menu items your guests crave.
Find the Right Venue.
The Greater Los Angeles area has eight stunning Bowlmor and Bowlmor locations that are ready to roll for truly memorable corporate events this holiday season. Each venue has its own distinctive style an approach to fun—from private bowling lounges and semi-private event spaces to patio-inspired lounge areas that can help set the tone perfectly for your office's party. Work With a Professional. All Bowlmor and Bowlero venues feature on-site party professionals that are ready to facilitate every aspect of the event planning process. Let them handle all the details, so that you can actually enjoy the party and focus on more important tasks (like finishing that massive Behemoth Burger). No matter where your company hosts its annual holiday celebration, one thing is for sure—it's never too early to start planning. Don't get stuck with a subpar venue that you're forced to book at the last minute.
Get the ball rolling and plan your office's Best Holiday Party Ever by visiting Bowlmor.com/holiday or Bowlero.com/holiday. Hit the Lanes for an Epic Holiday Party: Tips, Tricks, and the Top Reasons to Bowl for the Holidays.
For reprint and licensing requests for this article, CLICK HERE.