Best Places to Work 2017: West Monroe Invests in the Next Generation of Leaders for the Los Angeles Community
Custom Content from the Los Angeles Business Journal
Monday, October 2, 2017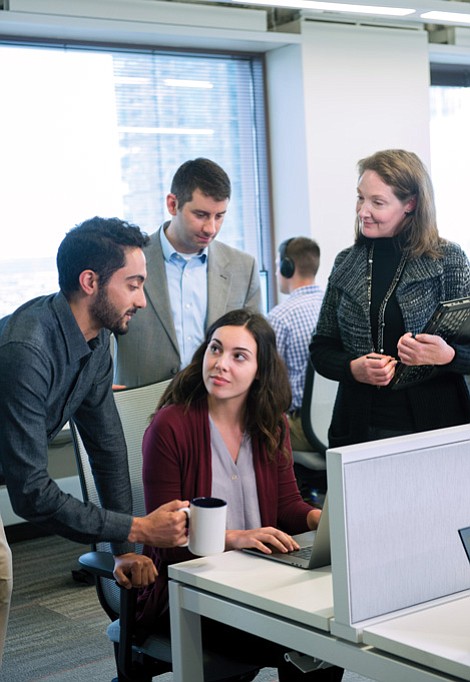 In 2015, West Monroe Partners approached its leadership community in advance of our annual directors' retreat with a simple question: What inspires you?
The common theme throughout was that our directors are inspired by the people they get to work with every day—in our office, at our clients, and in our communities.
In some ways, that's not a surprise. West Monroe is a business and technology consulting firm. Our people are who deliver our services, and we do our best work when we build strong, long-lasting relationships with our clients and community members who rely on us to help them with some of their toughest organizational challenges.
Since the firm's founding in 2002, West Monroe has strived to build a "people first" culture—one with a flat hierarchy that allows employees of all levels to take on active roles in company leadership, professional development, collaboration, and fun.
When we are aligned to this purpose, our work takes on higher meaning and provides greater benefits than solely achieving of business outcomes. In harnessing our collective talents, we not only create real value for the people we impact, but nurture and motivate those who will lead us in the future.
Thus, in 2016, energized by our directors' shared inspiration, we formalized our purpose into a new mission statement: Building the Next Generation of Leaders. We believe all of our people can demonstrate leadership, and we are committed to developing everyone at West Monroe to their highest potential. This commitment is not limited to just growing our people but also inspiring leadership development at our clients and within our communities.
We define this leadership philosophy as follows:
• Committed to extraordinary results.
We are dedicated to the shared success of our people, our clients, and our firm.
• Conscious of our greater mission.
We strive to "do good" for our people, clients, community, and firm.
• Collaborative across the firm.
We work with others to create a culture that promotes inspiration, inclusiveness, and growth.
• Credible to all our key stakeholders.
We are recognized externally and respected internally for our unique ability and expertise.
Putting it into practice
Of course, it's not enough to simply state we want to grow the next generation of leaders. We've also invested significant resources to make our mission come to life. We built our three-year strategic plan around four key stakeholder groups who are connected by our mission – our people, our clients, our greater Los Angeles community, and owners (as an ESOP, that's everyone at West Monroe). Some of the tangible actions we've taken include the following:
Prev Next
For reprint and licensing requests for this article, CLICK HERE.