Best Places to Work 2017: Evite Sets a New Standard for Employee Engagement
Custom Content from the Los Angeles Business Journal
Monday, October 2, 2017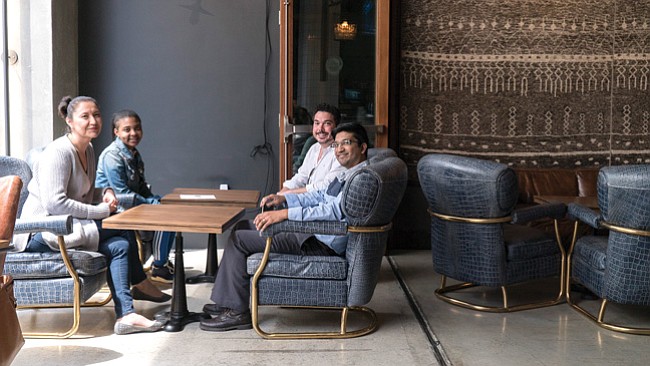 Evite is the world's leading digital platform for bringing people together face-to-face. It turns out they do a great job of bringing their employees together, too.
"Our people are at the heart of everything we do," said Victor Cho, Chief Executive Officer of Evite, which was recently named one of the LA Business Journal's 2017 Best Places to Work in LA. "We have this amazing team whose talent and creativity inspires me every day. I feel like it is my job to provide a supportive and engaging environment that brings out their best."
One of the more unique ways Evite fosters strong connection among its employees is through a weekly "blind date" program, in which 4-5 employees from different departments and levels are treated in groups to an offsite lunch. The program encourages individuals who might not interact during a normal workday to connect with one another face-to-face and gain an understanding of other areas of the company.
This summer, Evite is taking the standard company picnic to a whole new level by holding their summer retreat at Disneyland. The company will fly in their New York City and Chicago offices to join them for the week for Disneyland and an in-person all hands summit.
Evite also keeps employees engaged by offering an attractive work/life balance. Employees enjoy unlimited (trust-based) vacation, paid family leave, baby bonding bucks, and flexible work schedules. These policies have played a key role in attracting and retaining the best tech talent to achieve Evite's long-term goals.
"The desire to do more and do so at a level of constant excellence often comes at the expense of taking time to rest and reinvigorate," said Cho. "At Evite, we encourage balance for all employees."
The company also takes pride in bucking an industry trend as a female-friendly tech company. In fact, women currently make up 59% of Evite's total employees and 52% of its senior leadership roles. The heads of Product, Data, Mobile, Testing and Ad Ops at Evite are all women – a rarity in the tech space. "We look forward to continuing to foster an environment in which women can excel and grow in their professional careers for years to come," said Cho.
All of these employee-focused initiatives have helped to keep the company's leadership position in a space they invented nearly 20 years ago. With free, easy-to-use digital invitation designs, inspirational video content, and a private sharing feed for photos and conversations, Evite makes coming together face-to-face effortless and more memorable for not only its internal employees, but also for its 100+ million annual users. The company has sent over 2 billion event invitations in its history, fostering 3 billion unique face-to-face connections along the way.
"Our company mission around bringing people together face-to-face makes it all the more important that our workplace, too, inspires employee engagement," said Cho. "We hope to keep building that community as we continue hiring in 2017 and beyond."
For reprint and licensing requests for this article, CLICK HERE.