Inglewood Looks Up
Football, transit boost residential – office market in line?
Friday, November 24, 2017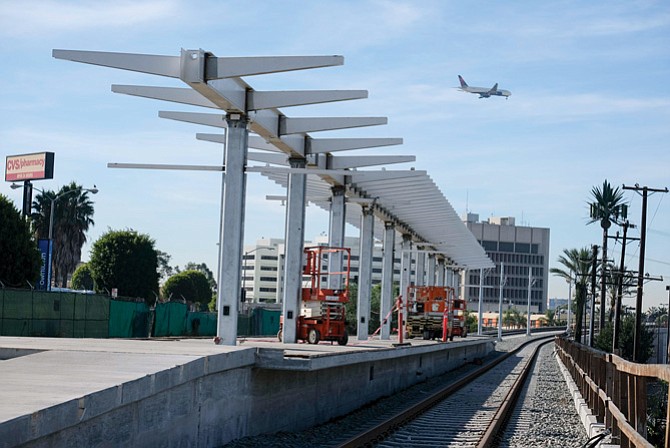 Los Angeles — Commercial development is booming in Inglewood, and residential real estate is anticipated to follow.
Developers, investors, politicians and commercial real estate brokers cite the incoming Los Angeles Stadium and Hollywood Park entertainment center, the new Metro Crenshaw rail line, and $14 billion invested in nearby Los Angeles International Airport as driving forces behind new apartment construction, raising apartment rents and increasing home prices.
All of that, they say, could also set the stage for a growing office market in the next decade.
Henry Manoucheri, chief executive of Century City-based real estate investment firm Universe Holdings, which has acquired seven apartment properties in the city since 2014, said there's a lot of potential in the Inglewood marketplace. He cited a 30 percent increase in local rents since 2014.
Inglewood is "still rough around the edges, but demographically, it's changing and gentrifying," Manoucheri said. "It's not going to be quick. It's one of the last sleeping markets in Los Angeles. I think rents here are some of the most affordable anywhere in the L.A. Basin and it's still very close to the Westside of L.A. and to the South Bay."
Inglewood Mayor James Butts is downright bullish on the future of his city, pointing to the ongoing entertainment and infrastructure projects in the works or the subject of negotiations. There's talk of a possible move by the L.A. Clippers basketball team, currently playing in Staples Center in Downtown Los Angeles, to a sports stadium dedicated to the team in the city near the new stadium and Hollywood Park.
"In 10 years, Inglewood will be the new downtown of Los Angeles County," Butts said. "It will be the sports and entertainment capital of Southern California."
Value of Entertainment
Inglewood's star turn started when Los Angeles Rams' owner Stan Kroenke chose Inglewood to build his $2.6 billion, 300-acre Los Angeles Sports and Entertainment District, as well as the stadium that will host the National Football League's Rams and Chargers football teams. The venue has already booked the 2022 Super Bowl and the 2028 Summer Olympic Games opening ceremonies.
The overall lineup of development is starting to drive up apartment rents within the city, according to real estate brokers, even though the first ball won't be thrown until at least 2020, the anticipated opening date of the stadium.
The upward trend is already in swing – third-quarter average apartment rents are $1,810 per month in Inglewood, up from about $1,400 in 2013, according to market tracker Axiometrics. That's still a relative bargain in L.A. County, where average monthly apartment rents are now around $2,237, according to the 2017USC Casden Multifamily Forecast, up 18 percent over the same period.
Prev Next
For reprint and licensing requests for this article, CLICK HERE.