Wide, Not Open
Originally published November 22, 2017 at 8:57 a.m., updated November 22, 2017 at 8:54 a.m.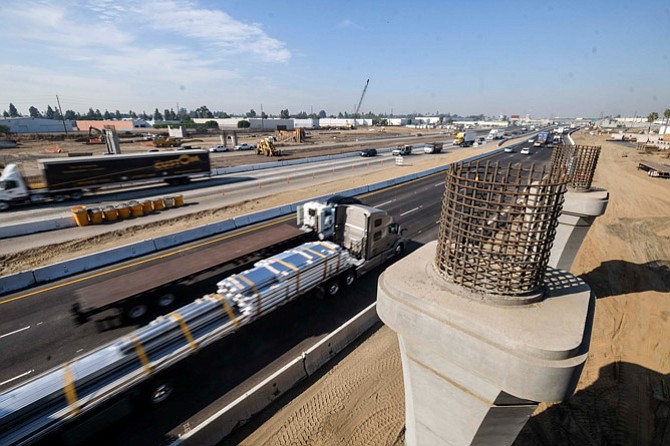 The seven-mile $1.9 billion widening of Interstate 5 from the 605 Freeway interchange in Downey to the Orange County line started more than six years ago and won't finish until mid-2021 – making it the largest, longest-running highway construction project currently under way in L.A. County, according to officials with the California Department of Transportation.
The aim is to turn a chronically congested and aged highway – three lanes in each direction accommodate more than 180,000 vehicles a day, on average – into something resembling the wide, smooth-flowing version of Interstate 5 that starts as it passes into Orange County.
The project is adding a mixed-flow traffic lane and carpool lane in each direction. Hundreds of millions of dollars' worth of work is also going to improve traffic flow on streets crossing over and under the freeway or immediately alongside.
The improvements have direct bearing on the economy on both sides of the L.A.-O.C. line.
"I-5 is one of most heavily-traveled interstates in Southern California, both for commuting and for commercial trucks moving goods," said Marc Bishoff, public information officer with the District 7 Los Angeles County office of the California Department of Transportation, better known as Caltrans.
The 7.2-mile widening project extends through the cities of Downey, Norwalk, Santa Fe Springs and La Mirada. Two of the six major street/freeway interchanges that are part of the project have already been completed: Alondra Boulevard and Carmenita Road. The other four – Florence Avenue, Imperial Highway, Rosecrans Avenue and Valley View Avenue – are in various stages of construction, each with different contractor teams.
Business relocations
The money for the project comes from a mixture of federal, state and local sources, including $265 million from Measure R, the half-cent sales tax passed by L.A. County voters in 2008.
Much of that money was spent before the first piece of earth was turned in mid-2011, on land acquisition to accommodate the widened freeway. About 350 businesses had to be relocated. according to Caltrans District 7 spokesman Tim Weisberg.
Many of the businesses received relocation assistance money from Caltrans – but not all of them. One that didn't was a Budget Rent-a-Car and Sales franchise in Norwalk. Franchise operator Phil Arey said his landlord told him 11 years ago that the parcel was being taken for the highway expansion. Arey was able to relocate his business to another vacant site across the street.
Caren Spilsbury, executive director of the Norwalk Chamber of Commerce, said this is typical of the impacts that three years of construction has had on businesses near the freeway.
"With completion of construction along the Norwalk segment scheduled for next year, there's increasing optimism the worst impacts are behind us," Spilsbury said.
Businesses in nearby La Mirada have also suffered some impacts from the I-5 widening construction. But for the most part, they are putting up with the inconvenience, according to Rich Trujillo, a Farmer's Insurance agent who also serves as board president for the La Mirada Chamber of Commerce.
"But nobody is really complaining a huge amount," Trujillo said. "They are grinning and bearing it until it's done."
Congestion shift?
There's concern that the congestion won't disappear even after the project is completed; rather it could just move a few miles to the north, around the interchange with the 605 Freeway, where the I-5 will remain at its current four lanes in each direction with no carpool lanes.
The start of construction on the planned $1.1 billion widening of the segment of I-5 between the 605 and the 710 Freeways was pushed back to 2036, thanks to some horse trading among local transportation and elected officials to pass the Measure M half-cent sales tax increase last year.
For reprint and licensing requests for this article, CLICK HERE.