Select Hits, Big Misses for Apparel
MANUFACTURING: BKs, bright spots in mix of largest
Friday, November 17, 2017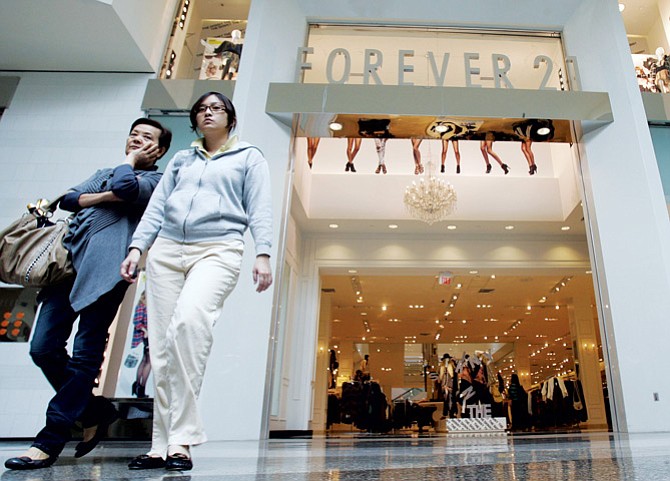 It's a tale of two trends.
The revenue figures for the 25 largest apparel manufacturers in L.A. County reflect an overall industrywide decline, combining for a 3 percent dip to $5.7 billion in 2016.
The numbers also point, however, to a crop of companies that are figuring out a new approach to a market that's been reshaped by digital forces, according to this week's Business Journal list, which ranks local labels by annual revenue.
The cumulative decline came in large part on high-profile bankruptcies of various labels, including American Apparel, BCBG Max Azria Group and Nasty Gal.
"There's a different way of doing business now and companies heavily dependent on brick-and-mortar stores need to figure out how to transition to digital effectively," said Frank Kaufman, retail analyst at Seattle, Wash.-based Moss Adams, an investment advising firm.

The top-ranked company on this year's list is privately-held Forever 21 Inc., with an estimated $4 billion in revenue. The Lincoln Heights-based company has not reported revenue in recent years, and this year's estimate is flat despite the addition of a second apparel chain, called F21 Red, and a line and cosmetics-and-accessories chain Riley Rose.
The company, which has manufacturing operations along with its 700-store retail chain, shed almost 8,500 employees in 2016, and now counts 35,000 overall.
Forever 21 is owned by husband and wife Do Won and Jin Sook Chang who rank No. 25 on the Business Journal's list of Wealthiest Angelenos.
The new chains mark a strategic shift for Forever 21.
"They realized that the 'buying and throwing away clothing' dance or the fast fashion trend was not something its millennial consumers particularly wanted," Moss Adams' Kaufman said. "That demographic is much more concerned than most about the ethical sourcing of products they buy and spending money on experiences rather than things."
Some apparel companies, however, are faring better than others, including No. 2 Skechers USA Inc., which reported $3.5 billion in revenue for fiscal year 2016, a gain of more than 10 percent.
The Manhattan Beach-based athletic footwear and apparel company reported last month that its third quarter net sales increased by 16.2 percent to $1.09 billion compared to the same period a year earlier, while net income jumped 41.8 percent to $92.3 million.
The company said in its earnings call that it had a 25.7 percent gain in international wholesale revenue and an 18.6 percent increase in company-owned global retail stores revenue. Its market capitalization grew to $5.2 billion from $3.8 billion before the earnings report.
No. 3 on the list is downtown-based Guess Inc. clocking in $2.2 billion in revenue last year, about flat, followed by City of Industry's Hot Topic Inc. with $825 million in revenue.
No. 5 is TechStyle Fashion Group in El Segundo – which has started brands including JustFab, Fabletics and ShoeDazzle – saw revenue jump 24 percent.
No. 9 on the list, Topson Downs of California Inc., up two spots from the prior year's list with a 7 percent gain, to $400 million, signed a new facility lease last month.
The Culver City-based maker of clothes for women and young girls signed the 10-year lease for an estimated $30 million. The company was founded in 1971 and has clients that include Anthropologie, Saks Fifth Avenue and Wal-Mart Stores Inc., among others. It has more than 300 employees.
No. 16 BCBG dropped 11 spots from No. 5 the year prior. It reported its revenue at $150 million, down from $700 million in 2015. The company filed for chapter 11 bankruptcy protection this year, it was more than $460 million in debt and planned to shutter 120 stores following the announcement. On June 23, the U.S. Bankruptcy Court in New York authorized Marquee Brands and Global Brands Group Holding to take over the intellectual property of BCBG and operate about 20 of its stores. In August, BCBG announced that it would lay off 492 employees at its corporate headquarters in Vernon as the company winded down.
Another big name filing for bankruptcy this year was No. 23 American Apparel, down from the No. 8 spot in 2015. The company's intellectual property was bought by Canadian apparel maker Gildan Activewear Inc., for $88 million in February.
No longer on the list is Nasty Gal, which was No. 14 on 2015's list with estimated revenue of $300 million. The company's intellectual property was bought by British online retailer Boohoo.com. A month later Nasty Gal founder Sophia Amoruso launched her new company Girlboss Media. In August she announced that she had raised $1.2 million for the business.

Employment
Apparel is among the largest manufacturing sectors in Los Angeles County, according to downtown's California Fashion Association, a trade organization. Approximately 7,300 firms are involved in fashion-related businesses in the region accounting for a $24.5 billion industry, CFA states on its website.
But the number of workers in the apparel industry has seen a decline over the years as the sector struggles with off-shoring, automation and more recently, a skein of bankruptcies among big retailers.
The apparel sector in L.A. County employed 34,300 workers as of September 2017 compared to almost 93,000 in September of 2000, according to the state's Employment Development Department.
For reprint and licensing requests for this article, CLICK HERE.