L.A. County Unemployment Rate Falls to 4.7 Percent
Friday, November 17, 2017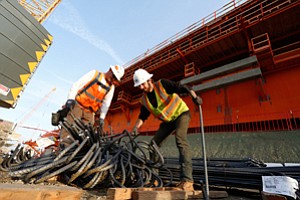 L.A. County's robust labor market continued to gather steam in October as the unemployment rate fell to 4.7 percent from 4.9 percent in September and the county added 35,000 payroll jobs, the state reported on Friday.
The unemployment rate fell as more people both entered the labor market and found work in October. The labor force grew by 12,000 to nearly 5.18 million, but the number of L.A. County residents working grew even faster, by 18,000 to 4.93 million, according to figures from the California Employment Development Department.
"Even with these low unemployment rates, we still see individuals being drawn into the labor force and into employment," said David Smith, associate professor of economics at the Pepperdine Graziadio School of Management in Malibu. "The question now is just how low can the unemployment rate go?"
The rate was lower than the statewide average for October of 4.9 percent, though still higher than the national average of 4.1 percent. It was also down from 5.1 percent a year ago.
The county's two largest cities – Los Angeles and Long Beach – posted unemployment rates of 4.6 percent and 4.8 percent respectively.
Meanwhile, a continued surge in seasonal hiring of education workers led the way in the county's overall payroll job growth of 35,000 to reach 4.49 million. Education payrolls in both the public and private sector swelled by more than 20,000, accounting for more than half the growth. Seasonal hiring for wholesale and retail trade rose by 5,000 as the holiday season neared.
Adjusting for these seasonal factors, the state reported that the number of payroll jobs in L.A. County remained essentially unchanged at 4.46 million.
Other sectors reporting job gains in October were leisure/hospitality (up 4,300), financial activities (up 2,100) and professional/business services (also up 2,100).
The only sector to report a substantial drop in payrolls (down 1,100) was "other services," including repair/maintenance, personal services and some nonprofits.
Over the past 12 months, the county gained 40,000 jobs for a growth rate of 0.9 percent, led by increases in health care/social assistance (up 20,000), professional/business services (up 7,800) and construction (up 7,500).
While the 0.9 percent growth rate was modest compared to the rates of 1 to 2 percent as of a year or two ago, Smith said that number doesn't give the complete picture. He also pointed to the 2.6 percent jump in civilian employment over the past 12 months to 4.93 million. That figure includes not just workers on payrolls, but also contract workers and those paid strictly in cash.
"That's a sign that we have robust job growth in the region," Smith said. "It's just that not all these jobs are showing up on company payrolls."
Economy, education, energy and transportation reporter Howard Fine can be reached at hfine@labusinessjournal.com. Follow him on Twitter @howardafine.
For reprint and licensing requests for this article, CLICK HERE.