Concierge Medicine Meets Retail in Century City
GoForward brings tech-heavy service plan backed by $100 million in VC money
Friday, November 17, 2017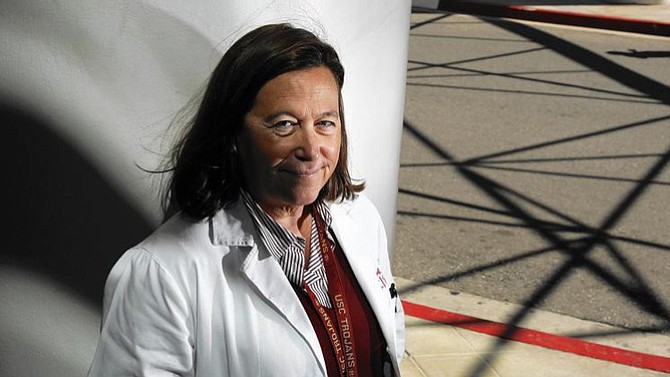 It's billed as "Apple store meets doctor's office," its chief executive hails from Google and its newest office opened last week in Westfield's Century City mall instead of a medical building.
GoForward Inc. is not the typical primary care doctor.
The San Francisco-based firm, backed by $100 million in venture capital and doing business as Forward, is a concierge medicine service launched this year. The company combines traditional doc-in-a-box primary health care with digital health tools ranging from genetic tests and predictive algorithms to body sensors and mobile apps.
A slogan inside the new mall storefront urges patients to "Design your health."
"LA has always had a strong desire for better healthcare, whether it's a Whole Foods on every street corner or the numerous health trends it's started," Adrian Aoun, its cofounder and chief executive, said in an email. "But there hasn't been a real medical science-based option that actually helps people control the future of their health in a way that has real impact on their lives. Thanks to technology, Forward is bringing LA that option and LA wants it."
He said GoForward expects to become the largest concierge medical service in Los Angeles.
He has competition.
Concierge medicine, which became a buzzword a decade ago, often features direct care doctors who focus on wellness, not illness, and see fewer patients to focus on personalized care. Established concierge physician services in Los Angeles include SignatureMD Inc. of Santa Monica; Cure in Malibu and West Hollywood; the Willow Healing Center in Woodland Hills; and local primary doctor members of the national MDVIP network.
The designer health care by GoForward costs $149 a month for personalized primary care, administered from a futuristic medical office. The company doesn't accept health insurance – and won't cover outside hospital visits, specialty care and most prescription drugs.
The company now employs about 40 people including former engineers from Uber Technologies Inc. and Facebook Inc.
GoForward initially received $30-million from investors in July 2016, according to a filing with the Securities and Exchange Commission, and has raised a total of $100 million, a company spokesman said. Major investors include Khosla Ventures of Menlo Park, and Founders Fund and First Round Capital, both of San Francisco.
Trojan Health
Hackers have broken into health care computer networks across the U.S. and California in recent years, stealing sensitive private data of tens of millions of patients – including 4.5 million from the UCLA Health System.
For reprint and licensing requests for this article, CLICK HERE.
Prev Next