Blow to Biotech Could Be Brief
HEALTH CARE: Trim of 200 jobs, prime lab available
Friday, November 17, 2017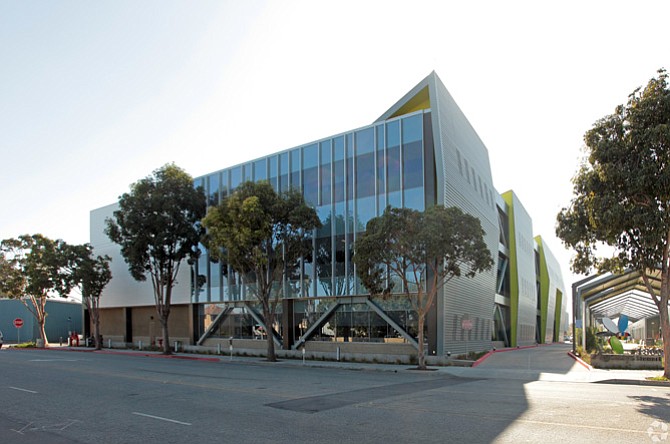 A once-heralded pioneer of the Los Angeles biotech cluster – founded 20 years ago by UCLA scientists bent on moving cancer research from the work bench to the patient's bedside – will exit the scene.
Agensys Inc. was founded in 1997 and sold 10 years later to Astellas Pharma Inc. of Japan for $537 million.
Industry observers estimate that Astellas pumped hundreds of millions of dollars into a 160,000- square-foot research lab in Santa Monica five years ago.
The company earlier this year decided to shut down the lab and lay off more than 200 cancer researchers in coming months.
Astellas executives confirmed last week that the facility is now up for sale, and industry buzz and various analysts said it may serve as an ideal site for some other biotech firm.
The closure of the LEED Silver-certified lab will mark an end to Agensys' focus on antibody-drug conjugates, which combine the targeting of monoclonal antibodies with a payload that aims to kill cancer cells. The Tokyo-based drug maker said it has shifted its oncology strategy by expanding research into other potential cancer cures, including immuno-oncology.

Astellas said it would continue with clinical trials in progress by its Agensys affiliate, including its collaboration with Seattle Genetics, Inc.
Biotech trade advocates say Astellas' pending departure is a big loss to Los Angeles. The company's founding in 1997 helped foster resurgence for Los Angeles biotech, they say, alongside other newcomers such as Xencor Inc. of Monrovia.
"We need winners – we need success stories," said Ahmed Enany, executive director of the Southern California Biomedical Council. "When you have a company like Agensys that's been here 20 years, and they're shutting down and laying off people, it's disappointing. We want to grow our biotech cluster."
Agensys, originally known as UroGenesys, was launched with $8 million in seed money from private donors and "angel investors," many who had been grateful patients of UCLA physicians who spurred its development, according to UCLA. Among them was Dr. Arie Belldegrun, now the director of the UCLA Institute of Urologic Oncology, who became its founding chairman.
At its height, it had as many as 300 employees.
The UCLA scientific founders of Agensys generated more than 300 patents for therapeutic antibodies to treat solid tumor cancers of the prostate, kidney, pancreas, ovary, bladder, lung, colon, breast, and skin
Belldegrun is now an advisor for Kite Pharma, another biotech company he founded in Santa Monica that just sold for $12 billion to Gilead Sciences Inc.
Belldegrun's earlier work with Agensys gave him his start in the private sector with "a gene discovery company that has been involved in the genomics and the bioinformatics of cancer," Belldegrun recalled during an interview last month. "And based on our discoveries, we have developed a series of human monoclonal antibodies that became the foundation of testing these antibodies in patients with cancer."
Roy Doumani, who has a background in international banking and was one of the original backers of Agensys and Kite Pharma, predicted another biotech company would buy the lab. He said that Kite Pharma was interested in possibly acquiring the Stewart Street site.
The Leed Silver lab facility, sheathed in blue-green glass with a rotating sculpture exhibit linked to Bergamot Station, contains 72,000 square feet of R&D space, and 46,000 square feet of manufacturing floor.
"Hopefully, their loss is our gain," said Doumani, executive director of the Business of Science Center at UCLA. "I think Santa Monica is going to be a growth hub for biotech. It's got a long way to go. That building is ideal."
A representative from what is now dubbed Kite, a Gilead Company, could not be immediately reached for comment.
"The property is one of a kind in Santa Monica," said Andrew Riley, first vice president for CBRE, of Beverly Hills, a life sciences real estate specialist for Kite Pharma and biotech start-ups out of UCLA, in an email. "There is nothing else like it and it is best suited for a biotechnology company.
"It would be great for the City of Santa Monica and the LA life sciences community if another biotech company took over the space after Agensys."  
Astellas, meanwhile, is already wrapping up operations here.
"The wind-down activities began on July 26 and will be completed in the first quarter of calendar year 2018," said Stefanie Prodouz, a spokeswoman for the Illinois-based Astellas Pharma US Inc., an affiliate of the Japanese firm of the same name, in an email. "There are approximately 220 employees at Agensys.
"We will be retaining no employees past February 2018 unless they apply for and receive a position in other parts of the company," she added. "Certain employees essential to the wind-down process will be retained through first quarter 2018. Lastly, the facilities will also wind down. The equipment will transfer as needed or be sold, and all sites will go on the market."
The shutdown of Astellas and potential for a new tenant at its lab come as the Los Angeles market shows growth as an employment center in life sciences (see related story, page 3).
For reprint and licensing requests for this article, CLICK HERE.