Who's Building L.A. (November 13): Runway Playa Vista
Custom Content by the Los Angeles Business Journal
Tuesday, November 14, 2017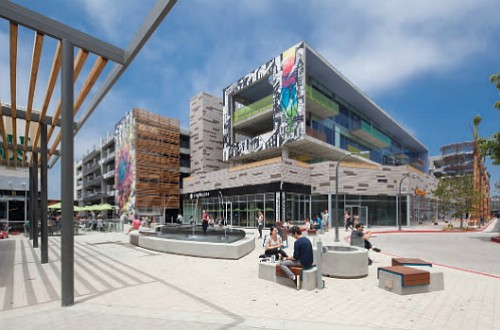 PROJECT HIGHLIGHTS ■ Located in the heart of Silicon Beach ■ Mixed-use social hub of Playa Vista ■ 10-acre project ■ 200,000 square feet of retail
Once known as the land where Howard Hughes built his aerospace empire, Playa Vista is now the land of tech empires — Facebook, YouTube, google, yahoo, Microsoft, Belkin to name a few. And Hughes' private runway has new life as Runway, Playa Vista's lively central district.
Runway Phase 1 is the new urban social and cultural center for locals of Silicon Beach. Only 1.5 miles from the ocean, this long awaited project provides an authentic destination serving the daily lifestyle needs of residents, tech professionals and creatives of Silicon Beach.
Located on the former site of Hughes Aircraft Company, the 10-acre project is a dense mixed-use community with in-line shops, restaurants and a wide array of retail anchors including Whole Foods Market and Cinemark Theater, which complete the 200,000 square foot retail program. Runway also offers a limited number of apartments and office space for discerning tenants who want to live and work in a lively urban district.
For reprint and licensing requests for this article, CLICK HERE.