Owner of Counter Burger Chain Sold, Will Leave L.A.
Tuesday, November 14, 2017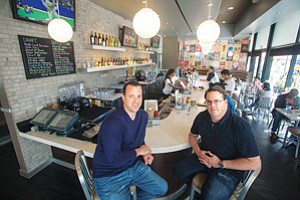 Canadian behemoth franchisor MTY Food Group Inc. agreed to acquire the franchisors of the Counter and Built upscale burger chain brands for an undisclosed amount, MTY announced today. The company expects the deal to close next month.
The chains are controlled by Culver City-based CB Franchise Systems and Built Franchise Systems. Those partnerships own three locations, while their franchisees own an additional 41 in the United States and internationally, according to the announcement. The combined 44 stores generated more than $81 million in sales over the past 12 months, said MTY, which has a market cap over $1 billion.
The chains were founded by Jeffrey Weinstein and Craig Albert, who did not respond to request for comment. Weinstein told the Business Journals in a 2013 profile that he started the chain because he was "tired of being told what to order at restaurants." Albert, a former investment banker, joined the Counter in 2005.
The offices of the two limited liability corporations running the franchises will move to Scottsdale, Ariz., MTY said. MTY's Kahala Group subsidiary, acquired last year, is also based in Scottsdale. Kahala's holdings include Pinkberry, Cold Stone Creamery and Baja Fresh, among others.
Retail, restaurants and hospitality reporter Caroline Anderson can be reached at canderson@labusinessjournal.com. Follow her on Twitter @caroline_mander.
For reprint and licensing requests for this article, CLICK HERE.