Startup Aims to Speed Drone Flight Approvals
TECHNOLOGY: New feature focuses on flights in controlled airport areas
Friday, November 10, 2017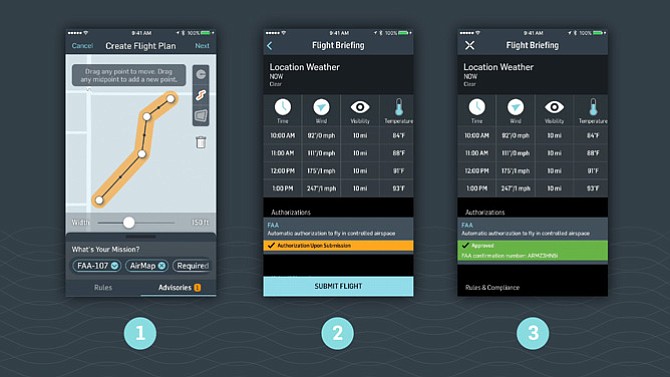 Getting permission from the Federal Aviation Administration to fly a commercial drone within 5 miles of an airport is a tedious process, sometimes taking up to 90 days.
That's often too slow for drone operators, whose customers frequently demand last-minute service for jobs such as aerial photography or construction site inspection.
The regulatory snarl is especially troublesome in dense urban areas, including Los Angeles County, where large swaths of the region are located near airports. The result is lost business for drone pilots who can't get authorization to fly.
Software developer AirMap in Santa Monica aims to surmount such challenges with a new feature for its airspace-mapping app. The company's core product, which launched in 2015 and is free to use, provides drone pilots, as well as those developing drone-related apps, mapping information on FAA-controlled airspace, for example around airports and helicopter pads.
The recent addition to the app allows drone operators to file a flight plan and automatically get air traffic control approval to fly near airports almost instantaneously.
"We are cutting a whole lot of time out of the process," said Ben Marcus, chief executive and co-founder of the startup, which launched the feature last month. "We are already seeing a lot of benefit coming through various drone operators that are operating commercially."
The privately held startup doesn't disclose financials. It's raised about $44 million since its founding in late 2014, according to venture capital tracker Crunchbase.
Automated authorization for drone flights in controlled airspace is available only near a handful of sites currently, including Cincinnati-Northern Kentucky International Airport, Lincoln Airport in Nebraska, Reno-Tahoe International Airport and San Jose International Airport.
An expansion of the program is likely to be rolled out in 2018, the FAA said, but no specific details about local facilities such as Los Angeles International Airport and Hollywood Burbank Airport were available.
AirMap predicts future growth in the drone industry will be robust and cites a study by Association for Unmanned Vehicle Systems International, which estimates that more than 100,000 drone-related jobs will be created nationwide and more than $82 billion in revenue will be generated between 2015 and 2025.
The company does not charge for use of its basic app. It sells data collected through the app's use and other sources to third-parties. Data categories include local weather, ground obstacles and FAA restrictions.
Its customers include drone manufacturer DJI, formally named Dà-Jiang Innovations Science and Technology Co., of Shenzhen, China, Intel Corp. of Santa Clara and 3D Robotics of Berkeley.
For reprint and licensing requests for this article, CLICK HERE.
Prev Next